Yesterday I completed Day 30 of the Whole30 plan. I called my husband to sit down with me so we could write down our pluses and minuses about the experience. He'd decided to follow along with me from Day 1, but I'm pretty sure that if I'd told him we were trying out the Fried Toads & Snails Plan he would have come along for the ride too.
"So, tell me how you feel!"
He gave me a bored stare and then popped a hazelnut in his mouth.
I started writing my list, commenting on each of my small but significant health improvements with squealing enthusiasm. I looked up at him from my sheet of paper, "You have nothing to say?".
He was still really busy crunching on a few more nuts but was able to point to his stomach and mumble, "Feels better". I translated his Man Talk into a coherent phrase and scribbled it down in his column.
I'm not new to a Paleo approach. As early back as 2002, before I had my second child, I'd been put on a no sugar, no dairy regime by my doctor. Plus, whenever I needed to hunker down and concentrate on improving my running I'd always need to eliminate certain foods from my diet. What had always stopped me in the past from trying a full Paleo was the carbohydrate question. I have hypoglycemia and whenever I restrict carbs in any way I have mini attacks of trembling hands and migraine headaches. But since I went into menopause several years ago my endurance running has been a struggle. Same with my 70.3 Half Ironmans – everything is great while I'm on my bike and can fuel myself. Once I start the run I just hang on until the end but I never feel energetic or able to push the gas pedal. I wanted find a solution for this.
In the past two years I've bought all the books and studied them. Robb Wolf, Mark Sisson, Peter Attia and Chris Kresser are like my best buds. Last year I poured over Lorain Cordain's The Paleo Diet for Athletes and experimented with a few of the concepts while training for 70.3 Aix en Province. It all made scientific sense, but I felt that I had to get to ground zero before I could build back up and see what would work for my body.
What pushed me to finally give it a try was seeing the Whole30 online plan. January is still pretty off season for me with very little biking and no runs longer than 90 minutes. I love the idea of a 30 day trial. You don't have to marry the plan and you're technically free after one month. I also loved that Whole30 had set rules about what to eat and what not to eat for the thirty days. I've seen so many people fail the Paleo experiment because they tried to make Paleo pancakes, muffins and cookies for everyday consumption. Just focusing on basic ingredients would help me understand what worked and what didn't. I was in, and apparently so was my husband.
Now on the other side of the 30 days, I can say that this was totally worth the effort it took to plan and execute. That said, the first two weeks were not pretty. I woke up every day with a headache, sometimes coming on in the middle of the night. I felt shitty and sleepy and couldn't just grab a snack before a workout to pick me up. I had to actually think how I was feeling and decide whether I needed to change the protein/carb/fat ratios. I also had an initial intestinal "emptying" (sorry if TMI) which I couldn't figure out because I wasn't eating anything that could have provoked it. It disappeared after Week Three and I've been fine since then so I'm just going to mark it down as a spontaneous body cleansing.
So, let's get back to my lists! This is what happened during my Whole30 experience:
"+"
Nails! – If I eat whatever I want (sugar, dairy) my nails don't grow. They split, crack and peel. At Day 30 they're growing out and strong. I think this is due to something that blocks my absorption of calcium.
Deeper sleep – the eternal  insomniac is now falling asleep within ten minutes of laying her head on the pillow.
Instant wake up – it's well known amongst family members that you don't talk to Mom as soon as she gets up. I swear it used to take me hours before I felt coherent and thinking clear. I'm now getting up at 5AM to work and I'm fully functional with fifteen minutes of being on my feet. This has totally changed my LIFE.
Improved muscle tone – my muscles are stronger. You can see them, they are just solid. I think this has what has allowed me to have…
Awesome runs – the magic happened at a 13km race two weeks ago. I hadn't run more than 8km in the past month and with the carbs not quite syncing yet, they weren't workouts to write home about. I decided to eat a sweet potato omelette before the race and just do it, walking if necessary. The first thing I noticed as I started out was that my glutes seemed stronger and supported me better. I cautiously walked a little in the first half of the race but then I got confident and just ran all the way to the finish. It was absolutely the best run I have had in the last… I don't know how many years. YEARS! Energy to burn, so much that at the finish line a guy came up to me to congratulate  me. He'd tried to follow my pace but could't keep up 🙂
No cravings – maybe the first two days I thought about all we were giving up, but then it was over. No wishing I could eat anything else. The food was so so delicious, better than anything I was eating before (and I was already eating quite healthy).
No back pain – I have a funky back with a slipped L5 vertebra. I stretch and am careful with it but sometimes it still aches a little. This month it hasn't and I think it's from the new muscle power I have in my glutes. That's just an intuitive guess, but I have a really good intuition.
New cooking skills – I'm a good cook but I had a set recipe repertoire. With new kitchen rules I had start thinking of new ways to cook and experimenting with new ingredients. I'm now in love with anything coconut, yams, sweet potatoes and baked cauliflower. I learned how to brine meat (awesome!) and discovered the wonders of bone broth, a new staple in our house.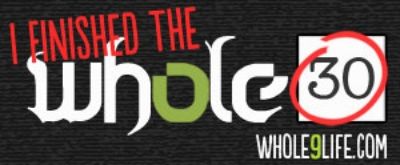 "-"
Increased food bill – it's not crazy, but I did spend a good 15% more than I usually do in the month. I'm sure I can avoid this if I plan better and Google "paleo on a budget". It can be done.
No weight loss – I put this on my list more out of emotion. We jump on scales like trained monkeys and always expect to see a loss. I didn't lose a gram, but I did lose a few centimetres and gained some very visible muscles. Compared to the long "+" list, who cares??
More time in the kitchen and more dirty dishes – as I go forward I'll learn to economise, but this month has been all about cooking differently and that takes time.
Yesterday, after a nice glass of red wine with my husband, we've decided to continue this new way of eating. I'll need to tweak it as my mileage increases, but I'm going to pay attention to my body signals to help me find the right eating regime for me.
Speaking of life-changing days… our Spring 5K and 10K e-courses start in just two weeks time! Come join us — I've got even more energy than usual to help get you running!