I was a little scared to race the Aix en Provence 70.3 Half Ironman. Not shaking-in-my-boots, but the kind of fear where you have no idea what might happen. I had trained during the long summer months but the heat had worn my enthusiasm down and I'd sort of forgotten what it takes to do an 6+ hour endurance event. I was tired and just wanted to get on with it… or so that's what I thought.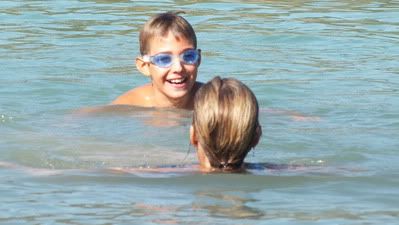 One thought did stay with me during that pre-race week:
I always finish what I start.
I've never pulled out of a race or not made it to the finish line. Sometimes it's not pretty and I've certainly never won the Olympics but it's one thing I can trust about myself… I always finish. So I knew that no matter how tired I felt or uninspired I was feeling I would see that finish line, the "how" part was what was I was going to be discovering along the way.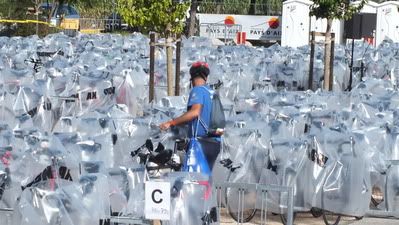 I actually signed up for Aix 70.3  with three other guys, but I ended up being the only one that made it to the finish line. Guy nr.1, who talked me into it in the first place, stayed home due to family obligations. Guy nr. 2 forgot his medical cerfticate at home. Guy nr.3 had come down with bronchitis the week before and was on antibiotics and cortisone. He tried to start but pulled out after 200 meters of swimming. They were there for me anyway, to watch my race along with my husband and son.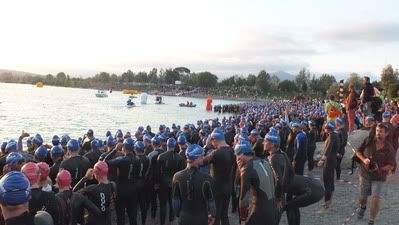 I loved the swim… except the part where I got clobbered by all those guys with wide arm strokes! While I was setting up my bike at 7.00 a.m. my teeth were chattering and I couldn't stop shivering. Then we went to line up in the water for the mass swim start and the water was actually warmer than the morning air. There were a thousand participants diving into the water at once. I felt myself get a little anxious when I got knocked on the head one too many times but I kept repeating the "stay calm and move forward" mantra and before I knew it I was out of the water. By the way, I want to give a two thumbs up to lake swimming. Calm waters, no waves and perfect temperature. I'm definitely considering more lake swims and races in my future!
There was a slippery slope to get out of the water and run to T1 to hop on my bike. I grabbed my bike bag and put on my cleats, helmet and glasses and exited to the bike course…