And now the triumphant final chapter of Julia's Provence Half Ironman adventure. Check out the swim and bike legs if you missed 'em!
The description of the run was that it was in the "city center" of Aix. In my head a city center is flat, but what I didn't realize was that Aix was a hilly city. I got that memo in the first meters of the run as I went downhill. "There's going to be an uphill somewhere…"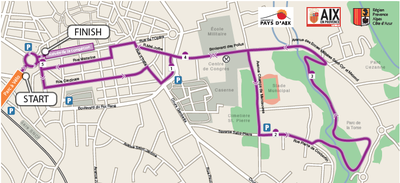 That green area in the park went up up up a hill and then dooowwwwn, then up up again out back on the street, up up up again and then into the city streets.
There weren't a lot of spectators along the course but, once again, the volunteers were awesome. "Courage Madame" rung in my ears as I went past the aid stations and then back to the main turnaround-finish area.
I have to say that I really need to find a way to improve on my half marathon performance. I don't know if it's mental or physical but I always need to walk at some point. In this half marathon I had to use all my tricks to keep myself going forward. I counted my steps. I ran from street corner to street corner and from tree to tree. I promised myself that I could walk up the hills but I had to run down.
The most difficult lap was the last because most of the triathletes were finished. At one point I looked behind and ahead of me and saw no one.
"What the **** does it matter if I finish 5 minutes later??!!" I thought. But then I got it together to give that last push. I thanked all the volunteers (you guys were awesome!) in my last lap; they must have thought I was delirious at that point.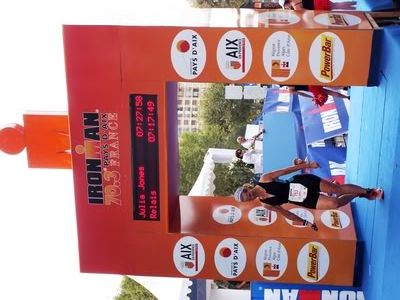 I looked up my times today and just realized I came in third in my age group… darn! I didn't go to the awards ceremony because I was sure that I was last! I wonder if they'll send me my little trophy?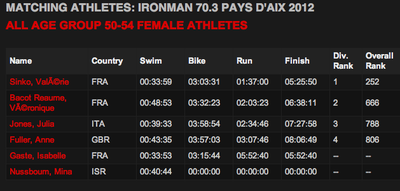 So picture this: I've been moving for 7 and a half hours on super tough course. I cross the finish line and see my husband on the other side of the fence. I touch his hand and start crying in that feminine get-those-emotions-out way. He asks me, "What are you crying for?".
I'm leaving him home next time. Kidding. But kinda not…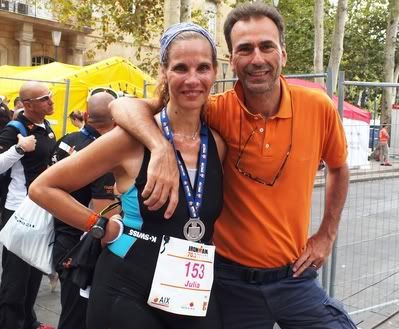 A super thanks to Alvise and Luca who were on that course all day cheering me on every step of the way. I just hope you guys actually train for this next year! And a kiss to Evan who always showers me with enthusiasm in anything I do.