Now on to the Half Marathon leg of Julia's "combo" race…
For the past eleven years I've trained groups of runners for the Venice Marathon with a program called My First Marathon. Tradition has it that they come to Modena to run their last important long run. It coincides with a the half marathon that goes right by my house, so it all works out well. They're  invited afterwards for a potluck lunch to celebrate together.
This year I had 18 confirmed for lunch so I had to make room for a second dining table!  One of my guests, is a woman I've been profiling for a year in the running magazine I write for, so I decided to run the half marathon with her and then run the extra 4 km to my house as our "long" run.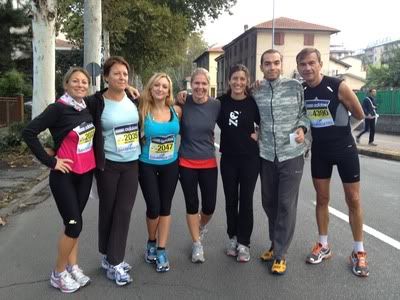 I was a little sore the day before from the bike race, but nothing debilitating or "oh my God I can't run!". Just sore. I told Erica to line up at the very back so that we could take our time and not feel like we were racing, just training. The plan was to walk for a few minutes at the water stations and we executed it perfectly.
I had a small group of local women that I'd trained for this race  and as the kilometres clicked away we'd come up behind them, say a few encouraging words, and then pass. We talked and yapped and had a nice gab session for the entire 13 miles. The course was not that interesting though it was closed to traffic so we didn't have to worry about getting run over.
When we got into Modena we went through the center of town, the main piazza and then into the Military Academy. I think this is the only part of the race where I shed a few tears. All the cadets were lined up and clapping for us…
There was a mini fan club waiting for us at the finish line!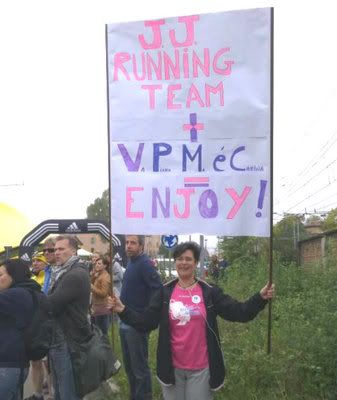 Granted, we'd purposely run slowly, walking and stopping several times to snap photos, but we came in at 2:20:01 – and they'd run out of medals!  There was a long line for anybody that missed out on the medal with 40 people waiting. I was getting cold so Erica and I agreed ditched the idea of the medal and start running. We finished at my house for a total of 25.2 km.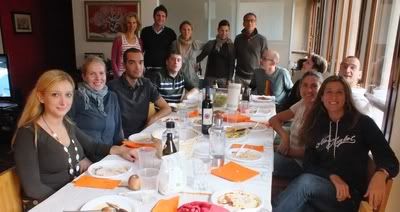 I went online to see what my times were for the combined bike and run and saw I'd come in 3rd place by 1 minute and 30 seconds! I crushed it on the bike but then taking my time on that run… if I'd known that there were other women doing the combo I probably would not have stopped for so many photos. Or lined up at the back. Or or or… it doesn't really matter. I would not change a thing to the wonderful time I had this weekend, it was that good.