Now it's time for Part II of Julia's gruelling adventures in France! Here's Part I if you missed it…
The bike course was hard. Like really hard. Just look at that damn profile…

I'd already seen the altitude map so I knew what was in store. I also knew that the organization had tacked on an extra 30 minutes to the finish time limit and expected it to take me about a half or more to finish the whole race. The good thing about the bike course is that I love hills. I love them in that weird, "this hurts so much, I feel awesome, where's the top?" kind of way. I knew I could finish the bike; I just didn't know what shape I'd be in for running once I finished. Now, I just had to think about getting up and down those "cols".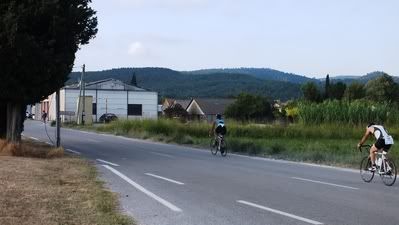 The road conditions were perfect. The pavement was smooth with few bumps or holes. The race organization was, again, perfect. I saw a volunteer about every kilometre and plenty of referees on the course making sure that there was no drafting. I didn't see any either. Everybody made fast passes and there weren't any big packs of riders. Now that I think back I never had any bad moments. It was all hard, but I felt good. My nutrition this time was two protein bars and three gels. I'd packed more stuff just in case and this ended up being a really good thing.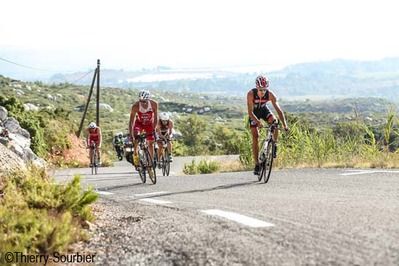 We were about 20 kilometres from the finish and going up a three mile 5% grade hill when I saw about twenty people walking their bikes up… in their cleats! I still felt good but needed to get out of my saddle to pump up the hill. A young French guy begged me to stop… how could I say no?
He asked if I had anything to eat. I opened up my bag and handed him two bars, two gels and one of my bottles which was still full. He thanked me and I got back on my bike to continue up the hill.
The bike is also where I had my obligatory grateful moment. I always have them during big events and this time it happened as I was going through the small town of Saint Antonin sur Bayon. I had just spent the last few hours riding up around Montagne Saint Victoire…
As I was cycling through the little town the villagers had come out on the street for the day to cheer the race participants. I suddenly notice the strong scent of grape must hanging in the air and this triggered my tears. I don't know about you,  but odours and scents really set me off emotionally. I thought  to myself, "How lucky am I? Here I am, healthy and racing in a Half Ironman in freakin' FRANCE on a perfect day with the smell of wine being made and people cheering while my family waits for me in Aix? Who can be luckier than me?". It was a really good feeling.
Once I was actually in Aix it took a good ten minutes to get to the city centre. They did a really great job of keeping traffic in order but I had to brake a lot for curves, go back up a hill then back down a narrow street. Finally I made it and I handed off my bike, got my run bag and, changed my shoes. Guy nr.1 and nr.2 tried to talk to me while I changed but I was concentrating hard so I don't remember what we said. I didn't hear my Piero's voice but figured he must be somewhere near and I had four laps of the course to run… I'd see him eventually!
So I exited T2 and started running…