I was nervous. I was nervous driving down to Pescara and I was nervous when I went to pick up my bib number and I was nervous when I did the bike check-in. My stomach was doing acrobatics and was in a permanent state of butterflies. I kept telling myself "calm down, the race isn't even today! You did the work, you trained as best you could and now you are ready". It was like a mantra I repeated over and over again. Pre-race jitters are my weak point in race preparation; I have to keep working on this!
At 6.00 pm we went to the last race briefing. I knew all the rules and regulations but they had completely changed every course on the swim, bike and run. I wanted to make sure I understood where I was supposed to be going on all three so we sat and listened.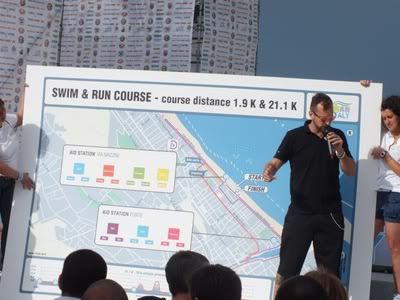 I also worried about another aspect of this year's race: the organization had changed. In the 2011 edition they had bussed in 300 Germans to take over the event and it went perfectly. This year it was in the hands of a local Italian group and I was already seeing a difference. Last minute changes, slight disorganization at the bib handout and even a different goody bag. Take a look: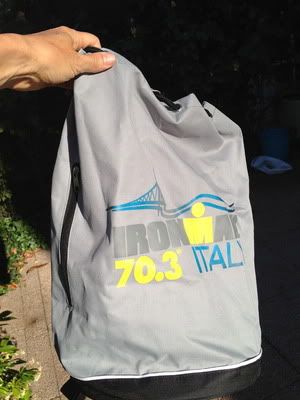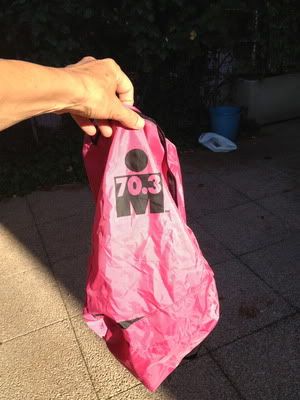 After they showed us the new swim, bike and run course they went through all the rules and regulations. They even brought out a big huge board with thirty "do this and you're dead" rules. No passing on the right, no drafting on the bike, pass within thirty seconds, no littering, no outside help, no coming into the finish line with friends or relatives. It was all stuff I already knew so no problem with anything. I was concerned that this year there would be no bike mechanics on the course. If you had problems you had to totally take care of them yourself. Last year they had mechanics and from what I've seen in other Ironman events there is always someone out there to help you. I prayed for everything to go well because I don't race with my glasses and if anything were to happen, I'd be a dead duck.
Knowing it was going to be a hot day I drank and drank and drank as much water as I could in the days before the race. I noticed my metabolism spiked a bit on saturday, mostly due to my being nervous, but I made sure I ate whenever I got hungry. Saturday night we went out with four other friends that were racing with me. I ordered a nice fish risotto and baked fish along with a salad and fruit, good carbs and protein! I was in bed by 10.00 pm with the alarm set for 5.15 am.
°°°°°°°°°°°°°°°°°°°°°°°°°°°°°°°°°
I didn't sleep particularly well. Lots of tossing and turning… and not relaxing. But I was up and at 'em as soon as the alarm went off. So was my husband Piero, since he was making my pre-race breakfast: pancakes! We make them with spelt flour (no gluten), eggs, olive oil, soy milk and just a little baking powder. I ate four of them with jam on top along with a banana and one litre of water. Full but not stuffed. Evan was still sleeping so I told Piero to let him sleep another hour and I'd get a ride with Luigi and Maria who were staying at the same B & B. Luigi was racing with me (just like last year) and Maria was once again our Sherpa for race day. And she is the perfect Sherpa: always smiling, always encouraging and no complaints ever. Thank you Maria!
Luigi and I started to get prepped for our 8.50 a.m. start.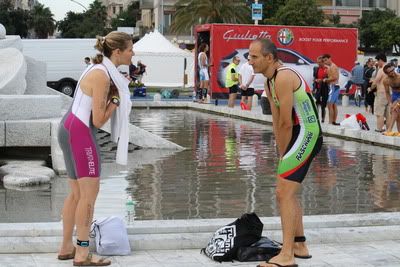 The Pro and Elite group started first at 8.30 am. It was interesting to see that they were allowed to start in the water whereas the amateurs had to start from the sand. I think this has to do with people's ability to follow directions or something…
After the elites it was the red cap "young dudes" 18 – 29 age group and then the green caps, my group. All women were lumped into a group with any male 50 years and older. It was a huge group. Right behind us was the blue cap Men 40 – 44 age group. These are the ones that are usually the most fit, I had to be moderately fast in the swim so they didn't mow me over.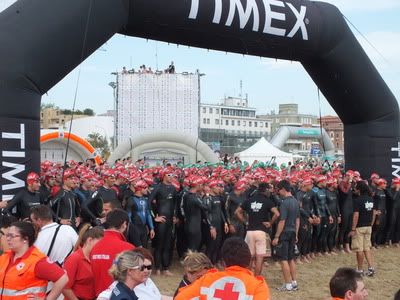 The start of an Ironman (half or whole) swim is always crazy. The horn went off and we walked into the water. I already knew that there was going to be about a hundred metres of shallow water so I just walked until it came up to my chest and began to swim. I was about in the middle of the green cap group and I kept getting swum over by overambitious men. Women are always more polite in the water. They tag along your feet or swim around you whereas men just swim over you. I started to get panicky after I get knocked on my head for the third time. Whenever I get panicked in the water the first thing I do is flip over and catch my breath while I do some backstrokes. I think I backstroked for about three minutes, I felt my breath in control so I flipped back over and swam  breast stroke again. Turning the first corner of the rectangle I started to feel better since there was a lot more room to swim. I usually take a few strokes and then have a look up to make sure I'm on course.
At one point when there was nobody around this dude swam from the back and over me again! He stopped and asked if I was okay, I just looked at him and thought "WTF??!!".
Rounding the second corner I started to feel like it was taking forever. The water was starting to get choppy, I started to get slightly seasick, the first blue cap participant swam past me like I was standing still. I backstroked for awhile and tried to not feel sick. I tried burping and getting any air I had in my stomach out and that sort of worked. I just wanted to get out of the water and get on with it. My feet finally felt the sand and I started half walking –  half throwing myself a few feet in front of me to gain some ground. I was super happy to be finished with the swim.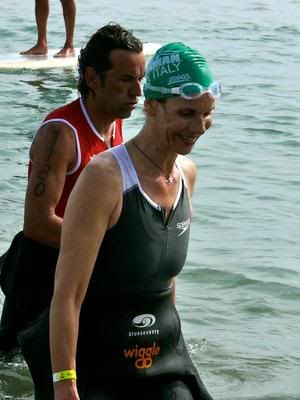 First GINORMOUS Ironman 70.3 Italy mistake: that swim was not 1.9k. Several athletes had waterproof GPS devices on and came in with anywhere from 2.350 to 2.450 metres. So, good to know that my internal GPS was right! 
Happy to be out of the water I looked down at the Timex watch that my husband had lent me for the race. The rubber wristband on mine had snapped in half last week so he kindly offered his. I tapped on it to get my time split and then looked down in horror at this…
He had just changed the battery a few days before and evidently not closed it back up tight enough. I could see the water swimming around the little window with no numbers. I laughed and thought, "This is karma and this is how it's meant to be. You don't need to know how you're doing by the clock, just do your best and enjoy.". I had my bike speedometer to know how I was doing there, but the next clock I'd see would be at the finish line…