My Dad is visiting me here in Italy and we've been running around somewhere every day. Yesterday we took the train to Bologna to meet my daughter for lunch and have a quick walk around. It's still nice weather, in the 70°'s  with blue skies, but no longer sandal wearing season.
The first thing I saw in the closet were my Vibram Five Fingers. I've had them for three years now and I've used them for running drills and just toodling around the house. I wore them to the corner once but I've never had them on for the entire day. Don't ask me why but I decided this would be the day to try them out!  I found my Five Finger socks and a pair of jeans so they didn't stand out too much.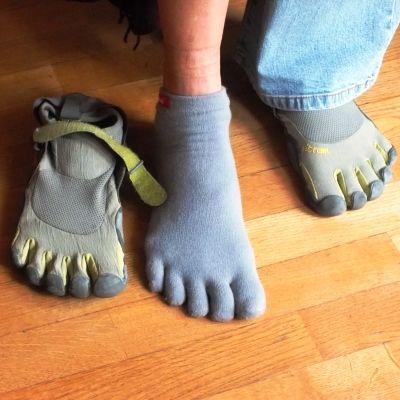 We drove to the train station, took the train, walked around the city for a total of about six kilometres. I went over cobblestones and regular street pavements, up flights of stairs and into restaurants. They were super comfortable and sometimes I'd forget that I even had them on. I saw a few people look down at them, but no pointing, laughing or "back away from the crazy lady" moves.
I noticed that my back felt great at the end of the day. It usually aches a bit if I walk around all day, but it was fine and that's definitely given me something to think about for future running and walking.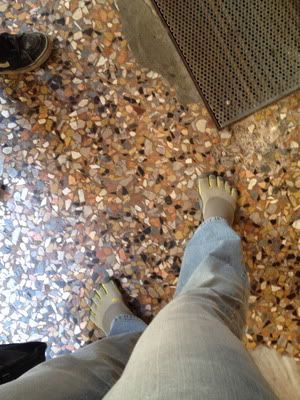 When I first moved to Italy in the 1980's there was a dress code that everybody obeyed and you were considered an outcast or rebel if you weren't dressed nicely even to go to the supermarket. It's interesting to see how much this culture has changed in a short amount of time. They still judge their books by the cover but sometimes they forget to put on their glasses. This doesn't mean I'm going to be running around in Five Finger shoes from now on. My first choice in footwear is still sandals, but it's nice to know that if I ever want to get into it, I can. Maybe all black would be more discreet though…