Today Julia concludes her Pescara Half Iron Man report. You can check out the swim and bike if you missed 'em!
I have to admit, I was dreading the half marathon just a little bit. It was now 2PM and about 30°C/86°F with no clouds in sight. I don't do very well in the sun or heat so I feared that it was going to be slightly torturous for me. I knew that  I'd have to take my mind to another place while my body ran the 21k.
That same morning I received this beautiful text on my phone from my friend David Alexanders:
Place your hands on your heart and belly breath.
In the meantime imagine the race as if it were happening on the clouds.
Resistant free and filled with love.
You will excel because this is your life mission.
To bring healing and meaning through your example and passion for sports.
Whether you come in first or last.
It matters not.
Because your heart & soul are on the leading edge of creation.
Be blessed. 
Affectionately, David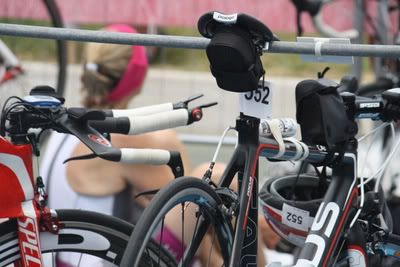 After I racked my bike I sat down to change my shoes. I was so happy to see the girlfriend trio there: Serena, Maria and Erica. They smiled and encouraged me and it felt really good to have them there. I got up and made sure I had everything I needed and then tried to exit T2.
The race also had relay teams and the runners were instructed to wait inside the transition area for their bikers to come in. This made for mayhem in trying to get out of there because the relay teams were  just standing around chatting and blocking the exit! I finally got out and started running. I'd stopped eating an hour before so I really wanted to get to the first aid station to get something to drink. I found it after about 1km, had a gel and moved on.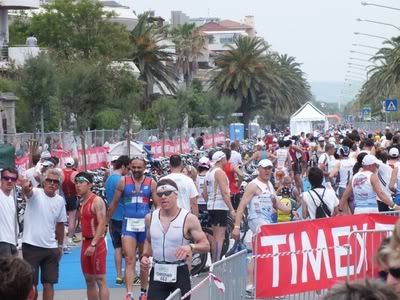 I'm not exactly sure how the 21km course was divided up. In the briefing they'd told us that we'd be running two and a half times around the course and running across the Ponte di Pescara (Pescara Bridge) three times. Since they didn't have any mileage signs anywhere I never really knew where I was. I saw some spray paint on the pavement at 7km but that's it. Nothing telling you where you were on the course. Combined with the fact that I had no watch, the only thing I could do was move forward in a cloud.
The bridge was hard but really nice. I couldn't actually run up it, or maybe I just used that damn 8% grade as an excuse to walk.
I liked cresting the top and being able to see miles of beach ahead. I also liked the downhill part. On my first round I came upon a woman that was laying flat on the ground. She was having trouble with the heat and her running partner had stopped to help her out. I asked if there was something I could do and they told me to send the medicals back to them. I ran for 2km before I found anybody.
It was slight torture running past the finish exit, but this is where I saw lots of friends again… and Evan. He tried running with me for awhile, but it was so hot I made him stop and told him to meet me on the other side. There were three aid stations and every time I went past one I took a bottle of water and poured it on top of my head and over my body. Energy-wise I felt okay; it was just too damned hot for me. I did have to fight off some of my demons every few kilometres. They were saying nasty things to me…
… you're in last place
… everybody else is already finished
… you were never any good at running in the heat…
I got out my mental machete and remembered David's message from that morning. It didn't matter what place I was in, I had to remind myself that I was here because this is what I love doing. And it didn't matter if everybody else had finished. Were they 51 year old women? No they were not. I'm not good at running in the heat but this is what I have right now so just deal with it. I felt better.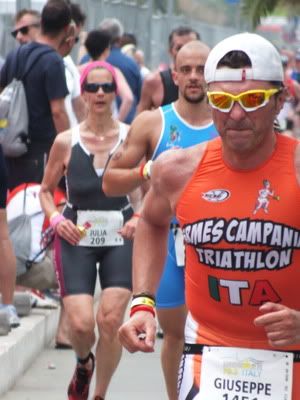 As I got to the last kilometre I started to get emotional and weepy. It was happy crying and I was excited to be finally finishing. As I approached the red carpet Evan popped out of nowhere and took my hand. For just a second I thought about the day before during the briefing when among the rules written in red they also listed: No crossing the finish line with friends or family. But then I thought about  mis-measured distances and the drafters on the bikes and the total absence of officials anywhere on the course… F**k that, he's crossing the finish line with me and they can disqualify me if they want!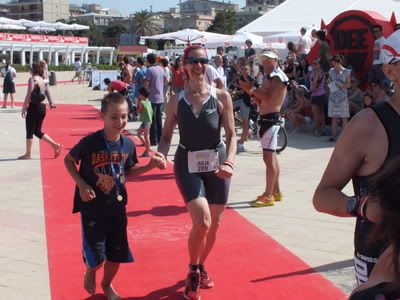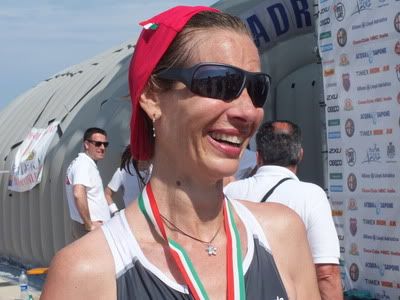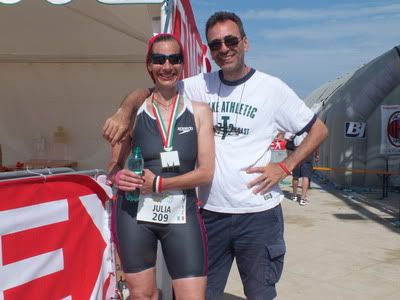 I started blabbering about the heat and someone handed me a bottle of water… but it was hot. I wasn't hungry but I really wanted to change out of my wet tri suit and get some dry clothes on. They had portable showers not far from the finish line that were absolute heaven. It just felt so good to be clean again and not moving anywhere.
I walked outside and started to look for Evan and Piero along with all my friends. They had put up the finisher's list and to my great surprise  I had come in 3rd place in my age group. By some minor miracle I was in 5th place when I came off the bike and passed two women during the half marathon.

We waited around for the awards ceremony and they gave me my Ironman 70.3 plaque for placing third in my age group.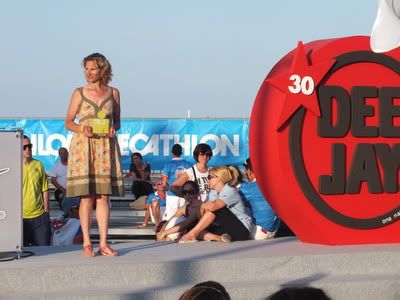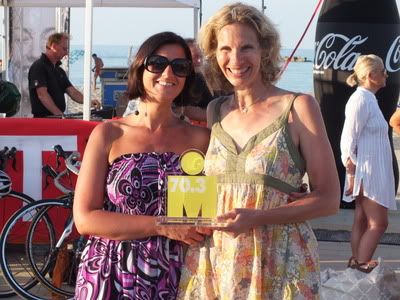 §§§§§§§§§§§§§§§§§
I took one entire week off from training and used most of that time to sleep and savor all the free moments. I took another week to pretend that I was moving around but mostly I'd go to the pool and dip my legs in and go on long walks.
Luigi and I had talked about doing another half Ironman this season since we had trained so much for this one. It's always easier to maintain than it is to train up to the distance, but I didn't really feel that calling to get back on the bike until last week. That's when I signed up for Ironman 70.3 Aix en Provence. To me it says lavender fields, French wine, fun with family and friends. Again. I can't wait.