Once I was out of the water I was fine. Not quite giddy or anything, but looking forward to getting on the bike. I'd really changed my game plan since last year and had concentrated a lot of my workout time just on the bike. As I passed the water sprays before the Transition area I tried to get as much sand off my feet as possible, then I started looking for my bike.
Wetsuit off, goggles and cap off, socks on, shoes on, helmet on, sunglasses on, race number on, run with my bike to the exit and then hop on and start pedaling. My game plan on the bike was to:
Have fun and enjoy the ride.
Remember to eat regularly.
Improve a little on my time from last year. I didn't know if this was actually possible since they had cleverly changed the race course a few months ago. It was no longer going to be a single 90k loop but two 37k loops and then the added bit to get to and from the transition area.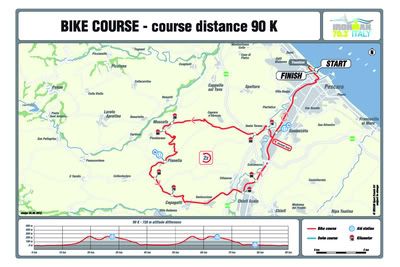 Up through the streets of Pescara and then out of town onto…the freeway! Not at all glamourous but efficient.  We had the sea winds at our backs and smooth paved roads. Even with all these advantages I saw a few complete idiots openly  drafting off of each other. It seemed to be the theme of the day for a lot of the other athletes. "How many rules can we break without getting caught?" Well, quite a few if there are no marshals around to bust you. On the entire bike portion of the race I never saw even one, just a few volunteers near the aid stations and that is it. Back to my race…
As soon as I was feeling like the pedaling was going smoothly, I started eating. The most important aspect of endurance races is how you're fueled. I've learned over the course of time that I do really well with solids in the first hour of the race and then continue with bars and gels. I taper off and don't eat anything solid in the last hour on the bike  so that my stomach is empty for the run.
After about 8km on the freeway we exited off onto some winding roads and then finally onto the loop that we'd be doing twice. The road was free of traffic and it was technical enough that you were never bored. There were a few nice climbs and I had to get up on the pedals several times but then we had the descents and that made it worth it. I saw several athletes with mechanical problems on the side of the road and a few tires being changed. They all looked like they were handling it well. I tried to get any idea of flat tires out of my mind and just concentrated on the fun I was having.
After coming off the mountain road we were led back to the freeway where the wind was now in our faces. The pedaling was really tough and I had to concentrate on just keeping an even pace and not worrying about my speed. I got down as low as I could on my handlebars to gain that slight bit of speed. I stayed in position until I saw the arrows pointing to turn right to start the second loop. Repeating the same climbs and going past the same villages made it a surreal experience. I'd seen everything just an hour before but this time my energy was different so my whole perception was too. I could feel that slight loss in energy in my legs – amazing what 40k can do!
On the other hand I felt great. As I came into the last stretch of the bike portion I felt like I could keep on riding. That was completely different from 2011 when my rear end was begging to get off the bike. As I got nearer to town I looked down at my speedometer and realized that the organization had screwed up the bike distance too.
As I passed the 90km mark while still on the race course I noted that I was ten minutes faster than last year;  so all three goals obtained. I slowed down as we came into the transition area and slightly dreaded getting off that bike. It was 1:00 p.m. on a Sunday afternoon and 30°C/86°F. I don't do well running in the heat and I don't know many others that do either.
But a half marathon was between me and the finish line, so off I went…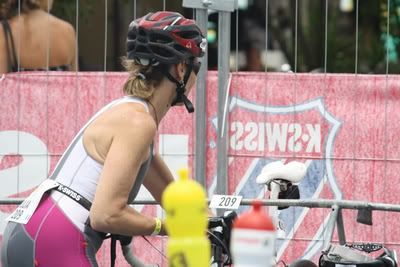 Just so you know – my on bike nutrition:
3.5 litres of water, 2 of them with electrolytes
2 pieces of bread with prosciutto
1 Powerbar
3 Power gels
Final Bike KM count: 94 km