Before I begin the epic account of how Ironman Italy 70.3 for this year went, I wanted to share with you my eight-year-old son Evan's race. Be warned: I am totally in love with this little guy so anything he does is sweet, cute and fantastic. Just so you know…
The day before the big event they held an "IronKid" race for children. I asked Ev if he wanted to participate and after he said yes he pestered me for information: What time does it start? Shouldn't we get there on time to sign up? What time is it now? He sounded like me!
First we went to the outdoor expo to check out the merchandise and say hello to friends. My husband Piero bumped into Francesco Panetta and Evan had a photo with him.
He accompanied me to get my race number and kit and was fascinated with the whole number tattooing process…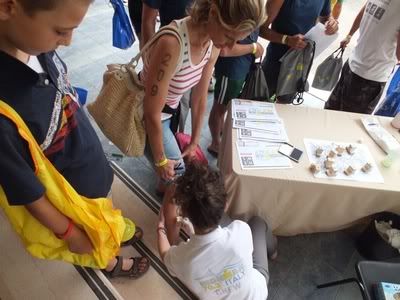 He was like my little shadow all day, following me wherever I went including bike check in…
While I was taking care of my bike business I sent him off with Piero to get fueled up. He must grow a few millimeters per night so his metabolism needs to be constantly stoked.
The distance he was "racing" was 25 metres swim plus a 400 metre run on the sand. No difficult biking or transition changes involved. They had a pre race briefing to make sure that kids and parents knew what to do. They were split into age groups by birthdate, his being 2003-2004. He lined up at the back and looked a little nervous but fully concentrating. I'd only packed his jammers instead of swimming trunks… hope that didn't slow him down! He was definitely the tallest in his age group.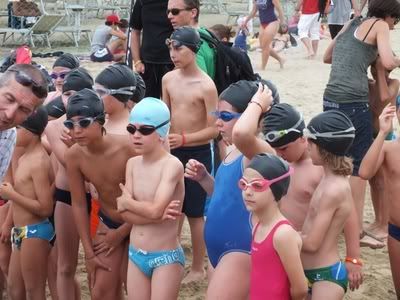 The swim was super simple: in the water, but they could actually touch the sand. If anybody panicked they could stand up and be fine. They had plenty of scooter boats  in the water and lifeguards everywhere. Combined with apprehensive parents on the lookout, it was a totally safe situation.
After they came out of the water they were supposed to take a t-shirt and put it on for the run. Some of them got it, some of them didn't. Ev tried to run while he put the t-shirt and ran the entire 400 metres wrangling with it.
Here we are at the finish line. He never did get that t-shirt on but the first thing I noticed in this photo was that his running form and foot position were ace!
He wore his IronKid medal for three days in a row… so I guess we can call it a good race for him!