Julia
Over breakfast this morning Evan asked me to feel his forehead. He felt fine but I got the message that he wanted one more day at home and I decided to give him that.
I've been feeling a bit off too. Not physically but mentally. I've been really sleepy and that's a like a bell ringing for me to get my s*** together or else I go down the rabbit hole of depression. I have a sort of protocol when this happens and it goes something like this:
dress in real clothes, not sweat pants.
look presentable, even if I'm the only one I see that day.
get some exercise to get endorphins in blood system
get some sunlight for the same reason
check a few things off any to do list I have going (of which there are several) so I feel like I've accomplished something.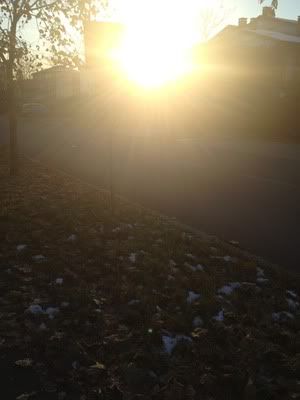 I feel grateful today to have the HAM Plan in place; it made me feel very much in control of the situation.
Breakfast –  Caffe latte + 3 rice cakes with almond butter and honey
Lunch –  1 cup of rice with veggies + 1 fuji apple
Dinner –  Curried chicken and peas + couscous + 1 piece of nougat (rather large but I made sure to enjoy it thoroughly!)
Exercise – 7k walk
Weight – * + 0.4 kg *
Shauna
Three highlights:
Discovering that Gareth had rearranged the banana and two satsumas I'd put out on the kitchen bench last night into a cock-and-balls formation.
Outstanding Lentil Soup! Made yesterday with the usual stuff: carrots, leek, turnip, celery, red and yellow lentils… but I added a tablespoon of a lovely mild Indonesian curry powder I brought back from Amsterdam (supermarket souvenirs are the best). My grandmother use to put a wee bit of curry powder into her famous winter stew. It doesn't turn it into a curry; it just gives a savoury boost.
Buying the Christmas issue of the Radio Times. When the Christmas Radio Times goes on sale and citrus fruit starts tasting amazing, it means it's almost holiday time!
Today's action:
Breakfast – Very strong latte. Porridge + banana + 50g blueberries + 1 tbsp almond butter
Lunch – Outstanding Lentil Soup + 2 satsumas
Dinner – 2pc Vegemite toast (the sight of leftover butterbean stew at 10pm gave me the boak)
Exercise – 60 mins yoga class