Just a mere ten days ago Shauna and I met up for one of our working summits. We need to meet for some face to face chatting every once in awhile and this time we chose Amsterdam.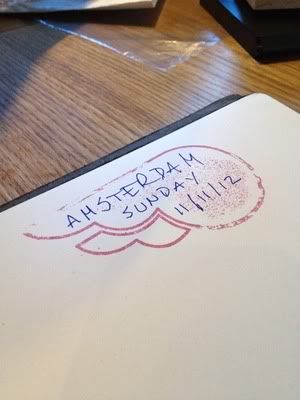 We always look for surroundings that will infuse us with creative energy and I have to say that Amsterdam really hit the spot. I felt at home there right away. We had some lovely Dutch Up & Runners that offered to come and pick us up at the airport and spend some time together before we began our work. There was lots of coffee and tea drinking, gorgeous meals and of course, our daily exercise routines.
We rented an apartment in the Jordaan neighborhood. In the morning Shauna would go for a walk and I would go running in another direction. On the first morning I chose Rembrandt Park. Honest assessment: it was okay. Nothing to write home about, or in a blog for that matter. It took me a about 3 kms to get to the park, I ran around for a few more kilometres and then retraced my steps.
The next day Shauna suggested a park she had already been to called Vondelpark. I didn't go there expecting anything better than Rembrandtpark, so I was thrilled to discover that I loved it. Vondelpark just seemed to be planned and laid out in a more comprehensive way. The one section I liked running on had an actual running lane that all the millions of cyclists had to stay out of. Once around the little reservoir turned out to be a little longer than 1km so I ran around several times and then headed back to the hotel.
I love being able to use walking and running to explore new cities or towns that I'm visiting. The early morning hours are always the best for getting a good look at your surroundings. There is just something so charming about a city at dawn.
Also, the absolute best thing about keeping up your exercise routine while traveling throughly enjoying the wonderful local cuisine, guilt free!