I am not a morning person. I really wish I was, but I'm not. Even if I get up early to work or for training purposes I'm still not "awake" for an hour or two. But then once a year I get up for this local race called the Run 5.30. There I am, up at 4:30 AM so I can look partially alive when II start the race an hour later. Here's proof that I was actually up and about…
Driving to the start the city was still asleep except for the 1500 participants. I think it's incredible that so many people would/could get up so early in the morning just to run 5k together… for fun! The organization has also been active and successful in trying to involve high school kids in running the event so it's not just the same ol' faces.  They also have a few groups that come from other cities. That's how I was able to run with my friend Giuliana from Milan. I trained her back in 1999 for her first 10k and then onto the marathon. It was so great to see her!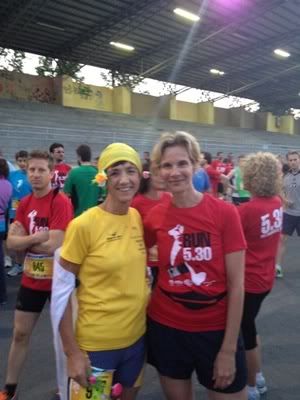 The 5k course went through the streets of Modena, which at 5.30 am were completely empty… lovely! Giuly and I got caught up on each others lives while the kilometres clicked by. It was over before I knew it and we were eating fresh cherries at the finish line along with the other runners. Everybody quickly took off to go take showers and and get to work on time.
The idea is to keep this schedule up for the rest of the summer. It was hot this morning while we ran so you can imagine what happens in July and August. I have to admit, running first thing in the morning and having the rest of the day in front of you is a really great feeling. Even if I am half asleep…