The Flora Mini Marathon (actually a 10k) is the largest women's only race in the world. It's been held in Dublin, Ireland for thirty years and 'd always wanted to go and see what it was about; to see 40,000 women run together. I had really high expectations for the event and in part it did not disappoint. The only moment where I said "whaaaaa?" was at the expo…
I love race expos… love, love, love. I eat all the samples and drink every colored potion they hand to me without asking what it is. I was completely ready to be immersed into the Womans World Expo, but I guess the sponsors have a different idea about what women really want when running. In all fairness I did see two running apparel booths. I'm pretty sure they were also selling running shoes. This compared to ten tarot card reader (to predict your race time?), a teeth whitening booth, sleep-in hair rollers, two tanning booths, endless cooking lessons and four stiletto heel vendors. I thought that they could have done better to encourage actual running. I would have liked to see other running events advertised; something to do after the Flora 10k was done and dusted.
I was only in Dublin for four days and it rained the entire time… except for race day! Shauna had come over, as well as a small group of Italian women. Italians get very excited about representing their country when they go abroad, bringing their flag with them everywhere.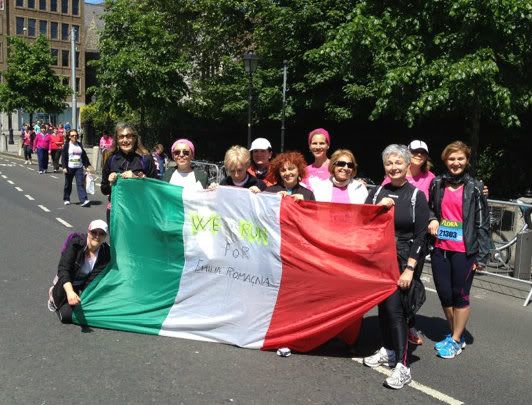 We got to the start early to make sure that everything went smoothly and to do a short yoga warmup. The organization had a sponsor that provided a group warm up but the instructors were doing muscle strengthening exercises rather than a gentle body warm up… hope nobody pulled a muscle!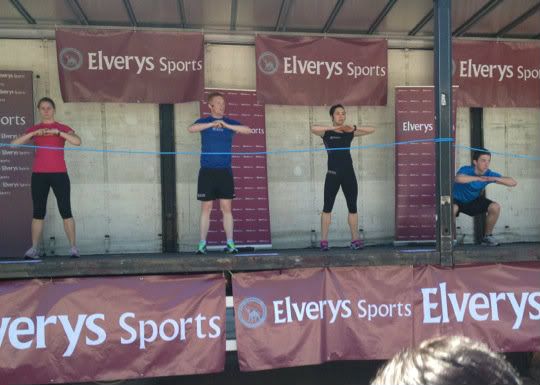 After our warm up we dropped our bags off and started walking towards the start area. When you sign up for the Flora Mini Marathon you have to declare what type of a participant you want to be: runner, jogger or walker. If you check "runner" you have to prove that you can run it by providing a race result from past performances. Tip for future Flora Mini Marathon Participants: run another 10k in a smaller race before the Flora Mini so that you can obtain "runner" status. I was put in the very first group and was only 20 meters from the starting line. I didn't see a lot of "fast" runners around me, just normal runners like myself. All the Italian ladies that came with me were capable of running the entire 10k in good time but they didn't have an online traceable result. I know they had a hard time weaving in and out between joggers and walkers. There were so many ladies out there…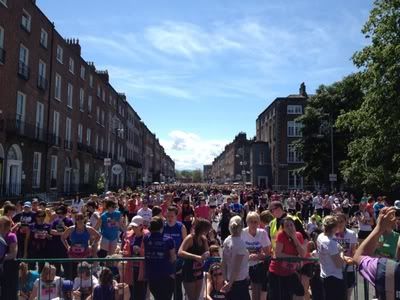 I have to say, the rest of the race was perfect. We started off at exactly 15.00. For the first 500 meters it was a little slow going but after that there was plenty of room on the wide roads. There seemed to be music about every 1km and water stations every 3km. The big difference I find in running with only women is that there is no pushing or shoving or crazy moves like men tend to do. I was running in a very crowded situation but I always felt like I could really run my own race.
"My own race" was seeing how in shape I was for my A race, the Pescara Half Iron Man, this coming Sunday. My chip time was 56:41 – a 50+ PR by one whole minute! I laid down a blazing 4:57 for that last km which shows me that I have more room for improvement. By the way, I advise everybody to reset their PR's every five years. As you age you will slow down and there's no sense in comparing your fifty year old running records to twenty years back. That said the first prize winner in my age group ran her race in 42:10, so you can still run at a decent speed if you work for it.
So, thumbs up to the Flora Mini Marathon, Ádh mór ort!!