It's Half Marathon Week here at Up & Running! We recently added our 12-week Half Marathon Course to our e-course lineup so we're celebrating all things 21K, including a sneak peak at the Course and chance to win a spot. The Half Marathon course is self-paced course so you can sign up and dive right into your training whenever you want.
Last week our first graduate Cate completed the Course. This is a part of  training people that I absolutely love: happy faces, inspiring stories, more plans for the future now that they've gleefully ticked off  another box.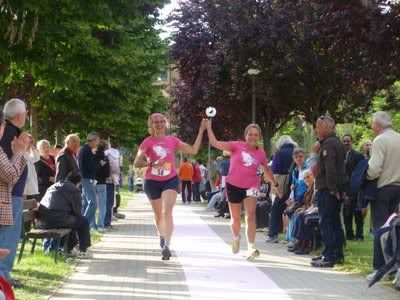 While we were creating the course I was going through my own half marathon training. I'm returning to the Ironman 70.3 in Pescara, Italy this year and that little race has a nice 13 miles tacked onto the end of it. GAH! In a triathlon I always think of the swim as a warm up, the bike as the main event in the race and the run as a relaxing end to the whole day. I knew that I didn't need to really "train" for the half marathon but I wanted to get to the point where if I ran one it just felt like a good, long run. In the past three months I've run the distance three times. The first was difficult, uncomfortable and had some walking in the mix. The second went smoothly and given that I did it during a storm, helped build my resilience!
The third was run this last Sunday and I have to say I am in love with the half marathon distance all over again. It's just such a completely satisfying race: not too fast, not too far, enough of a challenge that you need to prepare but not so much that your whole life is turned upside down. This prompted me to ask my running friends:
What do you love most about running a half marathon?
"Not having to run another 21km…"
Marco Raffaeli
"Being able to run 21 more kilometers the next day…"
Alfredo Carameli
"I love the half marathon because the next day I can still walk up and down stairs…"
Alessia Polemi
"I like knowing that if I didn't meet my target time I can try again a week or two later."
Carlo Bosani
"A half marathon has a complex character (for those with the marathon in mind): it's quick yet  intense. It's long, light running…"
Libel Sue
"It's demanding but doesn't kill you."
Lucia Solzi
"At the finish line I can say I won a challenge with myself."
Arianna Minto
"I ran one just yesterday… it helps me regulate my speed for the marathon. The half doesn't have the same allure as the marathon but it's a good compromise."
Luca Gozzoli
"The half marathon gives you the illusion that X multiplied by 2 = 2X!"
Romain Purro
"There is no 'wall'…"
Umberto Saracco
"One and a half to two hours of freedom in the open air, not closed in four walls…"
Alessio Guidi
"In less than two hours you've taken care of business…"
Lucia Calogero
"You can walk the entire half marathon and still make the cut off time."
Serena Razzolini
"I love running half marathons in cities where I can be a running tourist. You see the streets and sights  in an entirely different way."
Lucia Calogero
"Running in a race with so many other people makes me feel protected and strong!"
Maria Paola Scarpa
If you've run a half marathon, what do you love about the distance?