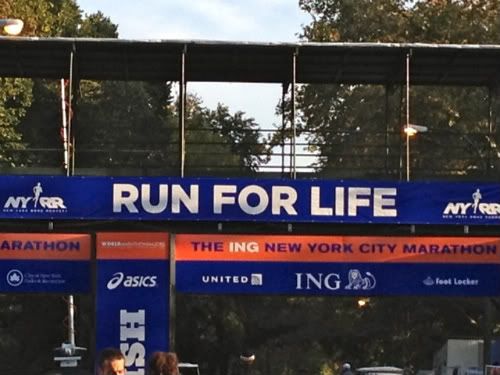 I'm in New York City this week. It's a city I absolutely adore, not because it has so much to offer and not because it really is the city that never sleeps. I love New York City because this is where I fell in love with running.
Growing up in California I'd always been an outdoorsy type of girl. I loved riding my bike to the beach, swimming in the ocean in freezing temperatures, hiking on the mountains and forests around my house in Marin County. When I moved to Italy after college I went through a  giant lifestyle change by exchanging healthy outdoor living with Renaissance architecture and gastronomic gratification. I still loved being outdoors but most of my exercising was done in gym classes and occasional bike rides through town.
Then in 1987 I was asked to work for a travel agency and accompany a group of "tourists" going to New York for a week. I arrived at the airport to find fifty Italians in running outfits. They were all going to New York to run the New York City Marathon. That Sunday morning I had a VIP finish line pass and I went to watch the elite runners come across the finish line.
After I applauded the first three heading for the podium I decided to work my way back down the course so that I could return to my hotel. I made it to the 25th mile mark at 5th Avenue and Central Park South and stayed there for the next five hours. I just couldn't pull myself away. I was absolutely drawn in and hypnotized by the runners as every sort of emotion played out for them in that last mile. There were people of all shapes, sized and ages. Some of them had huge smiles on their faces and others were digging down deep into their energetic and emotional reserves to get themselves across the finish line. I distinctly remember thinking  "If I feel this much emotion just watching them, imagine what it must be like to actually run…" 
Three years later I ran my very first marathon in New York. This next Sunday I'll be running my 33rd marathon and 10th NYCM. It still excites me to be here, best of all it still excites me to run. One point I try and make in our Up & Running courses is that there has to be a positive emotional connection to your running or it might prove difficult to keep your running going. I'm 21 years years strong in my running habit and I have the participants in the 1987 NYCM to thank for that!