Since the New York City Marathon was the very first marathon that I ran, the NYCM expo was also my first running expo. I just assumed that all running expos in the world would be just as fabulous and wonderful. I was sadly disappointed that they were not, but I still will go to ANY expo no matter what. The NYCM is of course still the best. I love looking at all the merchandise they come up with (though I never buy much of anything, just looking…), I love seeing new booths pop up. This year the newcomer was the VIBRAM company and they were swamped with new customers.
I've been running for so long that I have quite a few friends in the running industry and going to the expo is a great way to catch up. I always say hello to Bart Yasso at the Runner's World booth.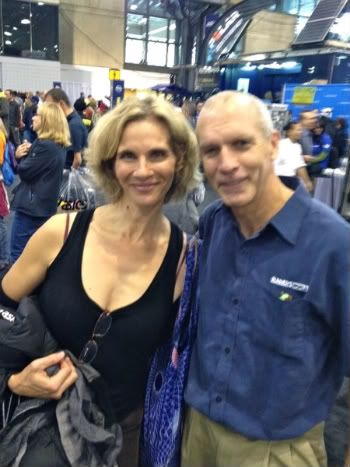 I met Bart on an epic running journey to Antarctica in 1999 when I ran a marathon there with Marathon Tours and wrote an article for the Italian magazine Correre about it. A few years ago Bart published a book about his running adventures and included the Antarctica trip. He's a crazy guy in a really good way and his book is hilarious. I also attended his wedding to his wife Laura in Abruzzo Italy which was really beautiful. Aren't all weddings?
I also saw these two guys together and grabbed a photo with them…
Giacomo is the winner of the 1996 NYCM and was coached by my husband. Stefano is of course the Athens 2004 Olympic men's marathon champion. He lives just a few miles from my house and I bump into him regularly. They were both excellent athletes in their time, plus they are both genuinely nice guys.
Later that night I went to a party held at the Icebreaker store in Soho for Kathrine Switzer. If you are a woman and running you have to know about Kathrine. Not only is she an important historical figure, her role in getting the marathon inserted in the Olympic programme was fundamental. I consider Kathrine one of my mentors. I worked with her in 2000 when they held the Avon Running world series in Milan. She is wonderful, inspiring woman and am proud to call her my friend.