Here's the final instalment of Coach Julia's epic Half Ironman adventure. You can also read Part I, Part II and Part III.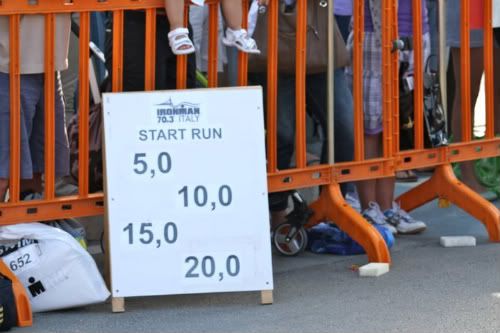 As I started my half marathon run the strangest thing happened to me: I could feel my running legs! One of the things that you need to train for in a triathlon is the sensation that you have when you get off the bike and start running. For at least the first mile it feels like your legs are cut off. But if you know what to expect you don't freak out, you just run until you can feel yourself running. In Pescara I could feel my running legs right away and that's when I had no doubt that I was going to finish this baby.
I relaxed and really enjoyed myself for the rest of the run. The course was a 5km circuit (plus a few hundred meters to make up for the odd 1.097 mt that had to be included). It went down in a straight line for about 2km where they had water, coke and sponges along with spongy colored bracelets that you took with each loop. We were turned around back the other way and then some turns and circles around the finish line area. When I started my first loop it was like entering a huge party…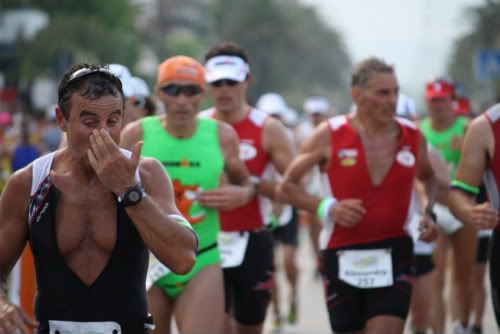 …there were runners everywhere! Every time I lapped past the finishing area I could see others that were exiting to the finish line. I felt fine and my head was in a good space, but this was the most difficult part of the race. Nothing hurt but every once in awhile I just felt the energy come down a notch. I let myself walk for a minute every once in awhile, but I could see that if I just pushed myself a little I could still run at a decent pace. I saw Luigi on the course a few times and we *high fived* each other. Every time I came to the turn around where the lap counter was I saw Maria screaming out my name. I really missed my husband Piero at this point of the race but I had so many spectators, total strangers, that were calling out my name and pulling for me that it was impossible not to just keep going no matter what.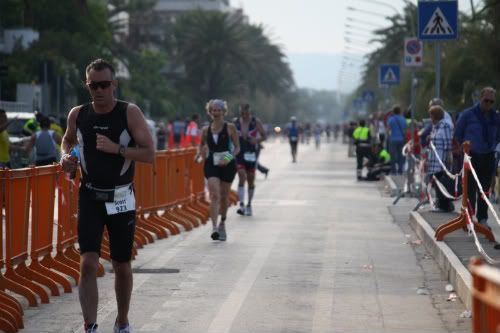 The last kilometre was very emotional. I started getting teary but I was laughing and smiling at the same time. I started thanking everybody: volunteers, bystanders, that lady that stayed for every single lap and called my name out each time. I'm sure they thought I was delirious, but I can assure you that I was feeling fantastic. As I entered the finishing area I just started leaping up and down and screaming and being as joyful as I could. I had worked so hard for this moment all I wanted to do was celebrate it as much as I could in my own way. They called out my name and told me I was an Ironman. Well, maybe only Half, but I had finished.
They had a little area right after the finish line with benches and volunteers running around to get you anything you wanted. I asked for water and a towel so I could dry off some of the sweat. I waited for Luigi to come in since he had started a few waves behind me. Maria was there to commemorate the moment…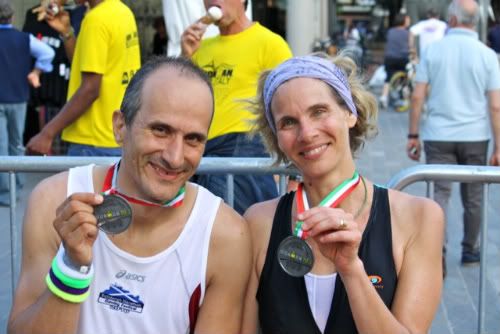 The first thing I did was go take a hot shower. They had set up portable showers right next to the finish line and they were actually really nice. Plenty of hot water, loads of space to get dressed. Right outside the showers they had an area with stuff to eat and drink. I was a little hungry but not starved. I ate a piece of focaccia and then called Piero to give him the news that not only had I finished the Half Ironman, and not only had I finished it an hour ahead of schedule, but I had come in second place in my age category! I know you want to know the numbers so here they are: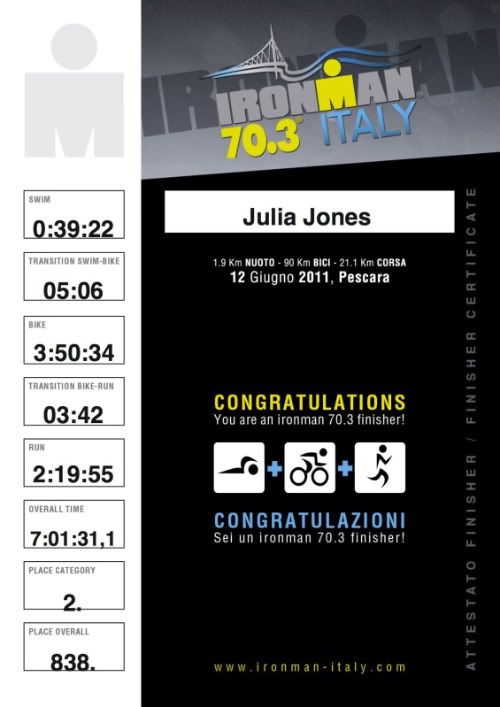 We ate and drank a little more, then we went to see the awards ceremony. It was thrilling to finally be able to see the elite athletes along with the top amateurs – cause I sure never saw them during my race! At some point they started giving out the age group awards and Maria turned to me and said "Hey, didn't you come in second??!!". Gulp! My first thought was that I wished Piero was there. My second thought was: I'm getting an age group award!!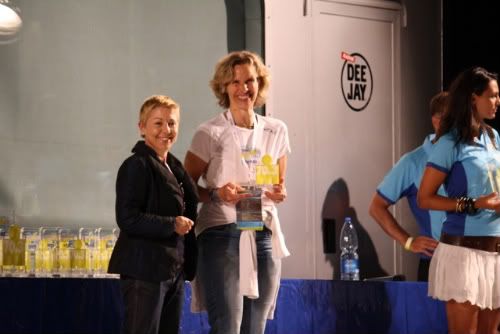 That high you feel after a race, the adrenaline, the endorphins, the whole process of planning, training, racing and accomplishing your goal is 1000% worth every minute of effort it takes to get yourself out there.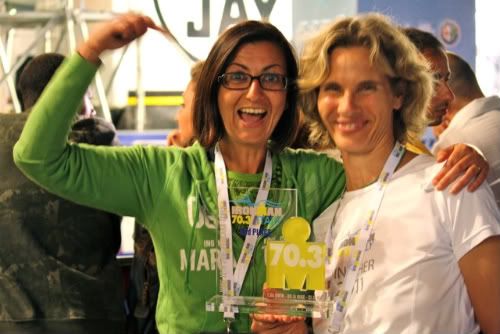 Even though I love to race I'm not the most competitive person in the world but I will be back next year. I want to recapture that feeling I had on the bike. I want to reaffirm that anything is possible if I really put some concentrated effort into it. I need to be reminded of that every once in awhile…