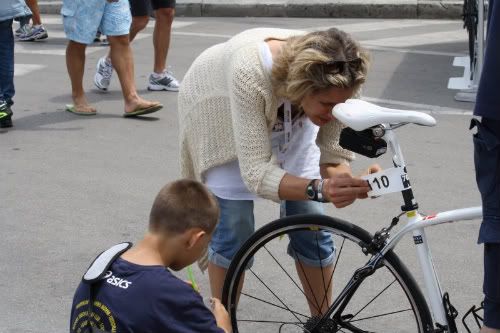 Before packing for a triathlon race I always make a list about two pages long of what I need to put in my bags. First there's all the swimming gear: several pairs of goggles (so I can choose), a wetsuit, flip flops, earplugs, Vaseline, sunscreen. Moving onto the bike we have a helmet, bike shoes… okay, I'm sure you get the idea.
Friday afternoon I was running around getting all those last minute items when my husband Piero got a phone call. A young athlete that he used to train had been killed in a motorcycle accident. We were shocked and devastated. We immediately started rearranging our weekend plans.
On Saturday we left the house at the crack of dawn for the five hour drive to Pescara. On the freeway we met up with our friends Luigi and Maria. Luigi was  going to be racing with me and Maria became our official photographer and cheerleader. Piero and Evan (our son) were going to spend the night in Pescara and then leave early Sunday morning to go to the funeral in Piero's home town.
Luigi and I needed to check our bikes in by Saturday afternoon so after eating a quick lunch we headed towards the official headquarters with our bikes in tow. I've been to a lot of triathlons in Italy but this was different. Pescara 70.3  was organized by a German company and owned by Americans. The Italians were just there to help out if needed. I hate to say this, but there was a huge difference. Everything was extremely organized and felt like an important event. They photographed me with my bike as I entered the transition area and I was in total awe of the number of bike racks set up. Almost 1,500!
We went to  the main piazza where the race briefing was being held on a maxitron screen.  A ray of sunshine came out from behind a cloud and hundreds of male athletes whipped off their shirts. Why? I can only think that they'd been working for so many months at improving their six-packs they had to show them to somebody. Plus there were all the tribal tattoos to show off…what other reason would there be?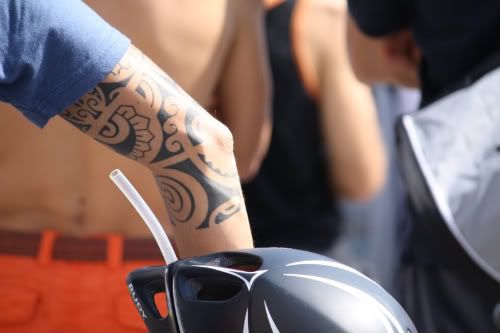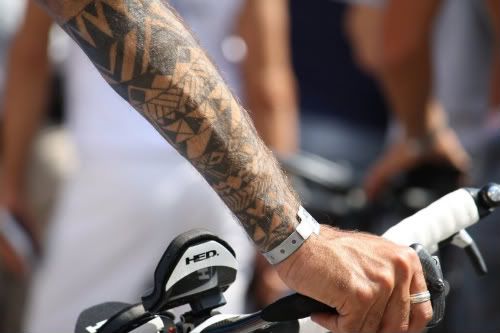 Luigi and I went on the beach to check out the swimming area. There were some rock barriers that we were supposed to swim past and then out into the open sea. But they had already predicted large swells so the course was going to be changed into an out-and-back within the barriers. I heard some complaints about the course change from fellow athletes,  but I'd rather have a boring swim than being smashed into rocks by the waves. We left the beach and headed towards a seafood restaurant for a carbo-loaded, protein filled dinner.