While my family is at the beach I had to come home for a series of dental appointments. On one hand I miss everybody, on the other hand I get to spend some time alone (which I do love also) and take care of some housework that's easier to do when the house is empty. Fun stuff like closet cleaning and freezer defrosting. Fun, fun, fun. I have to say it does give me a sense of satisfaction to be surrounded with cleanliness that doesn't get messed up an hour later! This all sort of coincides with the weak moment of my Half Ironman preparation.
I always have that moment, somewhere midway, where I flounder. Not quite having my heart into the workouts, skipping a few, cutting some short. Yesterday I had a good talk with myself (I do this all the time, by the way!) and just said, "tomorrow, you are doing everything exactly the way you've written it." This entailed getting on my bike this morning for an hour and then running in the evening for an hour and a half.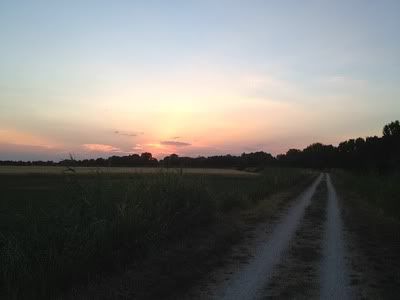 I hate summer running in Italy. It's so hot and sticky and you can only either run at dawn or sunset because at midday it's just too damn hot. But…but…the most beautiful, heartbreaking, nostalgic runs I ever do are always on summer evenings. Tonight I headed towards my usual running path. It's a nice 14k loop that's on an embankment above wheat fields. There aren't a lot of people around during the summer, most of them are at the beach, but all the sudden I came upon a trio of cyclists. It was one cyclist pushing a paraplegic in a tricked out wheelchair. It had big mountain bike wheels and rolled agilely across the path. I said hello as we crossed each other on the bike path and all three of them gave some sign of recognition. Just as they passed I saw the moon come up on the other side of the field and I suddenly felt so grateful to be running there – heat and all.