Last week Up & Runners from ten different countries descended on Bologna for the first ever Up & Running LIVE retreat. Three days of running, wine, good times and pasta-scoffing culminated with the Julia Jones Running Festival race. Today Julia looks back on her big day.
If you happen to live in Italy and also happen to run, you may know who I am. I've been a columnist in a national running magazine for over 17 years. I'm well known for a best selling book I wrote (in Italian) on women's running and creating a women's running movement with free running clinics.
But if you don't live in Italy you might just be thinking… "Who the heck has a race named after them?"
I know, it's crazy and I have to say that last year when the organizing committee added my name onto "Running Festival" I cringed a little. But this year it felt right. There were so many women there that I personally knew, in the end it just felt like a big party that I had invited 1000 of my best buddies to.
In countries such as the UK, France and Germany women's participation in running events ranks somewhere around 35 to 40%. In the USA there's actually more women runners than men. In Italy we're somewhere around 12%. So Running Festival is just another instrument to try and inspire women to take care of their health, starting with physical activity.
Shauna (a.k.a. my partner in crime) wrote a lovely blog post about our Up & Running LIVE retreat. It was so incredible to meet with women we'd been training online for almost a year. Connecting an avatar to an actual face takes about ten seconds. The live version of Up & Running was so much better than we could have ever hoped for. I am truly grateful for how wonderful this entire adventure turned out and I can't wait to create more events like it.
All week people had been asking which Running Festival race I'd be running – the 1.5k, 6k or the 10k. My decision was made when my son Evan asked me to run with him in the kid's race. Evan follows me on his bike when I go on long runs so I was really happy to be able finally run with him. I told him to line up at the back and to start out slow. It was so wonderful watching the stream of pink shirts go through the park…
Evan and I exited the park and onto the streets of Bologna and his first words were "I smell pizza".
While the main field of runners went straight we turned right onto a cobblestone street. I told him we could walk a little, and we did so for a few minutes then he announced, "I'm really hungry". Youth and fast metabolisms.
We turned another corner and were already back at the park so we decided to run the rest of the way, straight to the finish line. He was really happy about being "first". I gave him a big hug and went back onto the race course.
While I was running I had noticed that they'd put the water station in an awkward position for the runners and since I'm bossy like that I had them move it to the left side of the street. Much better!
I stayed around to say hello to runners on the course and then went back up to the finish line. Sonia Ruffini had already come in first and second was the lovely Laura Ricci. I didn't leave the finish line until the very last runner came in.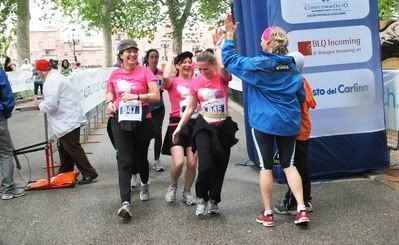 I still get asked why I run. It's never a simple answer and depending on when it's asked the answer is going to be different. Today I can say that I run because it gets me high. It's a mix of adrenaline and endorphins, but it's mostly the wonderful people I get to meet through my running endeavors. And that's a high that's good for your health and won't ever fade away. I'm still on it!