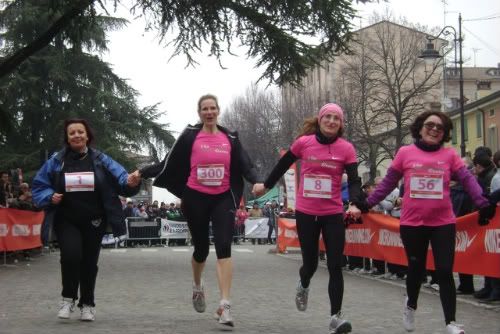 I don't have a lot of artwork or paintings hanging on my walls at home, but I do have many photographs. Photos just seem to stir up more emotion for me than a painting. I just love looking at at them and feeling the joy , the pride, the happiness or the nostalgia that each one emanates . Most of the photos I have hanging on my walls would not have that same effect on you because they're all very personal. The above photo is a really good example. Four ladies, hand in hand, running together. Let me tell you their story…
Last year a sports club near my home was holding their annual running race. It was their 30th anniversary and they wanted to do something different, so they decided to add a women's only race and asked for my help. If you live in the USA, the UK or even Australia, consider yourself lucky as far as physical activity is concerned, most of all running. In the States alone there's a 50/50 split of men and women that run. In most races, including marathons, the number of women that sign up surpasses the number of male participants. In Italy it is approximately 1/10. That would be 10% women in any given race distance.
So a running club that wants to organize an all-women's race may sound cool, but you have to find women that will run it. Not an easy feat. Last year I held two running clinics prior to the 6km race, where we had a total of 119 finishers. This year I held the same two running clinics with more women participating and we closed the race at 300 participants. So, why all the emotion for the photo you ask?
Bib nr.1: This is the mayor of Rubiera where we held the race. Last year at the awards ceremony in front of thousands I asked her why she hadn't run with us that morning. I know, I'm cruel like that…she declared that she would be at the starting line the following year…and she kept her word. She started out on a walking program and lost twenty lbs to boot. She couldn't stop talking about what a fantastic event it was!
Bib nr.300: that's me. Mark my word, I will be wearing bib nr. 500 next year.
Bib nr. 8 began running with my clinics last year and kept coming every single week. I caught her walking in the last 1km of the race. She'd been sick and on antibiotics for an ear problem, but wanted to be there with us on Sunday morning. You just can't knock some women over, not even with a steamroller!
Bib. nr 56 began running six weeks ago in preparation for this race. We ran the entire course together and chatted the whole time. When she felt like she couldn't run anymore we stopped to walk so she could catch her breath again, but then we'd take off once more running. She was so proud to have her husband waiting for her at the finish line that she brought me over to introduce him to me right away. Loved seeing that pride in his face!
So yes, it may look like four middle aged women running in a race, but those hands linked together mean so much more.