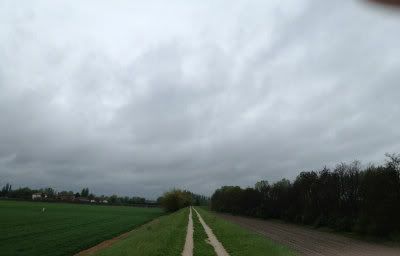 The last few weeks have been crazy busy, like working 7 days a week and feeling behind schedule every minute of the day. The problem is that I'm not going to have a break from the pressure for another month! I know that a lot of people would give up the exercise and fitness part of their lives to fit it all in, but running is part of my stress release. I get more nervous if I don't exercise so I always make the time for it.
After nine hours at the computer today I called it quits… until the evening. There's just a point during monster work hours where I'm just not productive and that's when it's time to step away.
First I went swimming for an hour. A nice "no pressure" session. While I was swimming I thought maybe I could go running afterwards. I still had time before I picked up my son from basketball (and multi-task by grocery shopping on the way).
I walked out from the pool center into pouring rain. I got in my car and waited five minutes until it let up a bit and then started driving home. I really had it in my head that I wanted to go running… but now I had the perfect excuse not to go.
What to do, what to do… I went back and forth in my mind about how I could go home and have some hot tea and work again. On the other hand I could just bite the bullet and run in the rain. It wasn't cold out; just miserable…
Then this cheesy Hallmark card phrase popped into my mind that turned the tables for me. It's such a corny analogy I'm sort of embarrassed to share it here with you, but here it goes…
I said to myself, "If this were your last day here, would you like to remember it with a hot cup of tea at home or outside running in the rain down a muddy path?"
There was just no contemplating that question. When I got home I laced my running shoes up and got out the door as fast as I could. It didn't rain that hard after all and the best thing was dodging all the mud puddles. And now, back to work!