I stood on the Verrazzano Bridge lined up with the second wave of runners and sang "America the Beautiful".  I closed my eyes for a minute just to feel the moment. I was calm and happy to just be there. Plus, lately when I line up for a marathon I tend to forget my one huge advantage on the course: my twenty-two years of running experience. This was going to be my 33rd marathon. I know that sounds like a lot but, well, I've been running since I was 29 years old. I don't believe in running more than two or three marathons a year since your body does need to recovery from high mileage, but if you race twice a year and multiply that by many many years, the marathons start to add up.
I love running marathons for a lot of reasons. It used to be that I loved the challenge, which I still do, but mostly I know that it's going to be an emotional high. That's actually what people are seeking when they repeatedly run long distances. That euphoria and adrenaline mixed with the hard work. You truly come out on the other end of 26 miles another person. I've run urban marathons and wilderness trail adventures, I've run marathons in the tropics and in Antarctica. Out of all the races I've run The New York City Marathon is one of the most difficult courses.
It's like this huge roller coaster with no flat coasting. It's either up or down. On the other hand the huge advantage is the spectators. NYCM is all about the spectators, you can't not finish this marathon, you can't not get emotionally welled up at least once  by the total generosity of people simply watching the race and cheering strangers on.
Some sort of horn blew and we started running…uphill. Yep, that first mile on the Verrazzano is uphill. I tried to take it slow and started thinking about how I divide my race in chunk size pieces.  I know some runners that go mile by mile or 5km's but this is how I slice it:
10km – Ten kilometres goes by in a flash, might as well get there mentally as fast as I can.  The first mile I felt my heart beating too fast so I purposely slowed myself down. Since I had zero idea what kind of timing I'd be doing I took the pressure off myself by not looking at my watch. I tried to live in the moment, enjoy now and just keep moving.
20km – I started feeling something strange going on with my right sock, like it was bunched up or slipping. I stopped and sat down… onto a squished banana. I took my shoe off and then repositioned my sock, put shoe back on and started running again.
21km – I'm thrilled to be at the halfway point. I think of home and hope that my husband is watching me. My mind goes straight to 30km but my right hamstring started to act up on the Queensboro Bridge. This is the eeriest moment of this race since all the runners are on a bridge with no spectators. Silence reigns and mentally it's a tough to get through.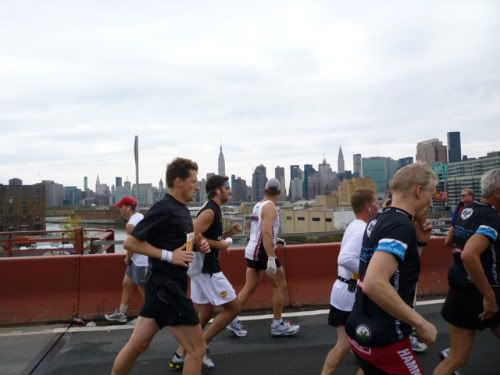 It's a steep uphill for the first half of the bridge but then you end up on the other side of paradise, a.k.a. 1st Avenue Manhattan, where everybody is screaming. Me? This is my first 2011 Cry For Joy spot…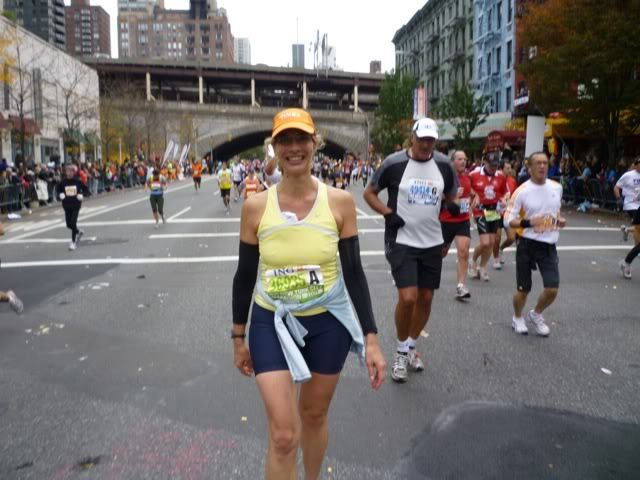 30km – Just twelve more kilometres. I walk every once in awhile for a minute but it actually feels better to run, even if I'm slogging along. Deep down I know I'll finish…
32km – At some point I'm running along the delirious moment starts. I close my eyes and run with the sun on my face. I know I'm going to finish, even with my gimp leg slightly throbbing. Every few miles I'll pass an Achilles athlete running with artificial limbs and think that I have it easy. I soak in the music and, with my eyes closed, listen to the sounds of spectators yelling encouragement. I start tearing up and feel truly happy. Hurting, but happy.
37km – With 5km to go I think of all Shauna and I have done with our 5K course. Five K, Five K, Five K… can I make it to the finish line in 35 minutes? (Up & Runners will understand the reference). I know Jo, an Up & Runner from Australia, is watching and send vibes her way. The run through Central Park is crazy with some marathoners racing to the finish line, others slogging along. The last kilometre up Central Park South is uphill. Knowing that I'm going to finish, I start laughing and crying all at once. I know, delirious…
Finish – As I make it up (yes, up!) the hill to the finish line I veer towards the right hand chute and finish with my arms triumphantly in the air and a smile on my face.
Next post: Being pulled into the finish line medical tent, trying to get back to my hotel,  marathon afterthoughts…