Julia
Day 4 done and dusted! I stayed within my HAM rules and got in a forty minute run. The rest of the day was spent scrambling around for work and kids. This also arrived: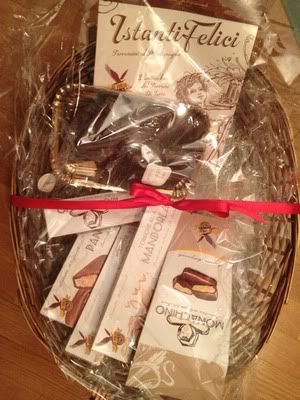 …our first Christmas gift basket! Ach!
My husband dove into a chocolate covered nougat right away. Normally the basket would sit around until an evening when we had nothing to do and we'd start snacking on the cookies or the nougats or the chocolate covered whateveritis. Here's what I did instead: I dismantled the basket and put all the Christmas sweets in a grocery bag and into the garage until December 24. Out of sight, out of mind.
I had a personal training session with a new client today. A very brave women that decided to start her running programme on this 32°F/O°C December day. Totally awesome, she has my complete admiration!
Weight: *+0,6 kg*
Shauna
Bit of a restless, grumpy day today where nothing went quite right. But it ended well with this lazypants slow cooker (crockpot) creamy tomato and turkey casserole. I used chicken thighs instead of turkey, left out the sugar and celery (Gareth hates celery) and doubled the rest of the veggies. Slow cooker recipes can sometimes end up a flavourless bowl of slops but with lots of hot smoked paprika and veggies, this dish was really delicious. Tomorrow's aim: get some veggies in at lunchtime.
Breakfast – Coffee. Porridge with banana and almond butter.
Lunch – 2 boiled eggs on wholegrain toast. Pink lady apple. So imaginative today!
Dinner – Slow cooker chicken casserole, 1/2 cup Basmati rice.
And – about 27 cups of tea coz it was so bloody cold.
Exercise – Cathe Travel Fit DVD