We know there's some fellow HAM Plan-ers out there… how are you getting on so far?
Julia
I had a client meeting in the afternoon so I knew I had to fit in my running in the a.m.. Temperatures have plummeted here and the mornings are really frosty, but once I'm out there I'm happy. I think this is something I really have to keep reminding myself of…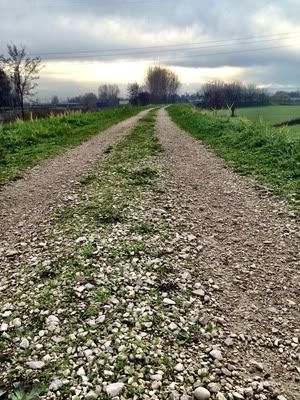 That once I'm warmed up (like after two minutes) I love being outdoors breathing in some fresh winter air. I also love that feeling of having done something for myself that day (and every day). At a certain point of my run everything got brighter and I couldn't understand what it was, but then I saw it on the way back…
On both sides of the path these new yellow weeds were popping up. It was just amazing how just that little touch of yellow brightened up that one tract of my run. It sounds silly but I thought about it lovingly all day. Running will do that for you 🙂
Breakfast – caffe latte + 2 rice cakes with almond butter and honey + 1 banana
Lunch – 1 cup of rice with veggies and broth + 1.5 apples
Dinner – Salad with avocado, carrots and scattered nuts + half a pomegranate + 2 mandarines
Weight – *+0,4kg*
Shauna
Yoga class was today's highlight. It's in a big hall that's also used for ballet, Highland dancing and amateur theatre rehearsals (not all at the same time). There's four gigantic radiators along the back wall and they're always making weird gurgling noises at awkward moments. During the relaxation our teacher was telling us to imagine laying on warm beach with the ocean calm and blue before us. Right on cue the radiators cranked up so noisily we could barely hear her serene voice. It was more like boiling mud pools at Rotorua than tranquil seas.
Today I had delicious homemade soup for lunch that I'd defrosted. SMUGFACE. For so long I yearned to be one of those organised people who have things in the freezer to grab for work and now I am living the dream!
Breakfast – Rice cakes with almond butter and banana (definite ab + b theme this week.)
Lunch – Lentil, bacon and vegetable soup. Horribly withered pink lady apple.
Dinner – Leftover paprika chicken & veg casserole. 35g bar milk chocolate.
Exercise – 60 mins yoga class