Julia
I'm scrambling to finish up some work that really needs to be put to bed by tomorrow, the last day of 2012. I spent a lot of time in front to the computer so decided to do exercises and yoga positions during my writing breaks every 30 minutes. I also walked a bit; from our house to my Mother-in-law's and back it's 3.2 km. We did that twice today. See? You can sneak in exercise in any moment!
Besides this I've had a lot of random thoughts going through my head today… thoughts on energy (of all types), on concentration (mine), and on hunger (and my lack of in the month of December).
I'll leave you with a photograph we took the other day when we went to the track. My husband had to test two athletes and the only track around here is an old abandoned one in the town of Oria. I love it because it has an beautiful view of the city in the background…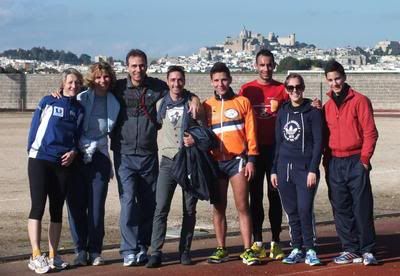 Breakfast –  Coffee + ½ banana + 2 rice cakes with tahini
Lunch –  1 slice of beef + baked thistles + 1 orange
Dinner –  1 piece of chicken + 1 apple + 10 walnuts + 4 figs
Exercise – 6.4 km walks + static exercises (mostly back and spine)
Weight – * + 0.2 kg *
Shauna
Back on the porridge today. I've learned many things from this HAM Plan month and probably the biggest is that I'm only ever one nice bowl of porridge and/or yoga session away from feeling groovy.
I'd woken up feeling kinda frazzled about work and life and things. I think half of it is Christmas hangover – all those late nights, large meals and leftovers. After faffing around unproductively for awhile I decided the rest of the day would be a quiet, turn off the computer and hang out with Gareth kind of day. I made a bowl of porridge for brekkie, stirring it slowly like a risotto to make it ultra creamy. Now brekkie is feeling more wholesome, I'll work more on the other meals tomorrow.
Like Julia I'm getting my thoughts together on this HAM month – what I've learned, the constant wanting-to-vom-from-self-consciousness; the futility of comparisons, etc etc.
It rained and rained all day long today. It's miserable but strangely cosy at the same time. I have about 10 different rainy day videos on my phone from this year, all grey skies but you can make out the season from what's growing in the background. This one looks like late summer!
Breakfast – Coffee. Porridge with apple and cinnamon.
Lunch – Leftover tomato, basil and chilli soup. A satsuma. Homemade banana muffin.
Dinner – Leftover turkey and leek pie with peas and a handful of oven chips that I didn't really need.
Exercise – 30 mins yoga