Julia
I worked all day on client training plans so no interesting photos, except my one moment when I went outdoors…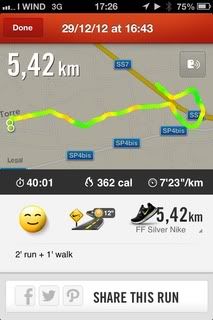 I doubled my run time today, from one minute fractions to two. My leg felt fine while I was running and now I have to start the ever so patient job of building back my resistance. It'll take me about a month to do, but I've done it so many times in the years I know it's possible.
I wasn't very hungry today, but I stayed in the HAM plan: eating at my three meals and stopping when I was full. Right now I'm sipping a cup of herbal tea (just the tea, no honey or sugar) and feeling very serene.
Breakfast –  1 caffe latte
Lunch –  1 piece of olive bread + fava beans with chard + 1 orange
Dinner –  2 eggs + 1 apple + 10 walnuts + sips of wine with hubby
Exercise – 5+km run/walk + 30 min yoga
Weight – * + 0.7 kg *
Shauna
Oh I love these nothing days between Christmas and New Year. I saw my sister off at the train station (boo), did some cleaning, some work tasks, knitted another crappy dishcloth, pondered outcome of 2012 resolutions… can I read Anna Karenina in two days? Ha ha ha!
Breakfast – Coffee. Bagel with cream cheese. Satsuma.
Lunch – Tomato, chili and basil soup. A chocolate biscuit.
Dinner – Turkey and leek pie. Cabbage and peas.
Exercise – 30 mins walk