Julia
Piero got it into his head that he was going to take Evan and I to see Le Grotte di Castallana. It's a Grotto here in Apulia that was discovered in 1938. I had a ton of work to do plus…um, it didn't sound like my kind of thing. He was insistent and wouldn't accept any of my reasons for absolutely not being able to go. After he had worn me out I decided I'd go for family's sake. I am so glad I went, it was absolutely incredible!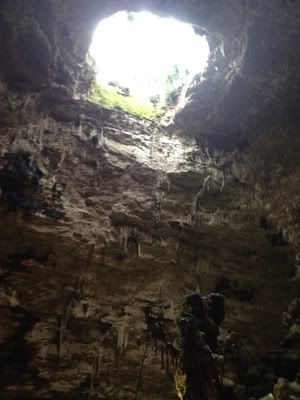 The Grotto is 200 feet under the ground and is one mile long. It has a narrow path with various chambers. The crystals change as you walk through to the end where the last White Room is. We were only allowed to take photos in the first chambers, so no White Room photos, but it was dazzling. It took a really long time to walk up and down the 3km of the various chambers, almost two hours. I'm happy we went during the winter since there were only about 30 people in our group. I've heard they cram the tourists in there like sardines during the summer months.
Breakfast –  coffee + ½ c. yogurt + 1 mandarine + 5 almonds
Lunch –  grilled meat + steamed chard
Dinner –  1 banana + 20 almonds + 6 figs + ½ c. yogurt
Exercise – Grotto walking and standing around!
Weight – * + 0.6 kg *
Shauna
There needs to be a word for the feeling of being emotionally overwhelmed and over-involved with a television series years after it actually first screened. We finished watching Series 1 of Borgen tonight, which originally screened in Denmark in 2010 and I'd previously watched this year. Now I'm lost in thought about Prime Minister Nyborg and her sexy husband, even though Denmark have known for years what happens next.
And this comes just when I'd finally stopped waking up and saying to Gareth, I can't believe what happened in The Killing, as if Sarah Lund was a real person! At least Borgen Season 2 starts next week. In the meantime we'll get back to sniffling over Northern Exposure Season 6, which originally aired SEVENTEEN YEARS AGO!
I have done things aside from eat and watch telly, I promise!
Quite a random day with inadequate veg… we're on the dregs of the Crimbo leftovers!
Breakfast – Coffee. Poached egg, grilled tomato and mushroom, baked beans.
Lunch – Flat white. 1pc toast with leftover Christmas ham and rhubarb chutney. 2 stuffing balls.
Dinner – 1 bagel with cream cheese. Satsuma. About 3 tbsp of the last of the self-saucing chocolate pudding (so sad to see it go!)
Exercise – 60 mins walk.