Julia
When I went on my morning walk I encountered about six other people either running or walking down the road. I always find saying hello to people an experiment in social behavior. Sometimes they won't look at you, won't allow their eyes to glance your way, pretending you are not even there. Other times they'll see you, look at you, but not exchange a greeting. The one day where all of this changes is Christmas Day. When I chirp out "Merry Christmas", no matter how shy or anti-social they are, I always get an answer back.
The road near our house is full of olive groves. The sun was shining this morning and I came upon a pastor with his goats and sheep…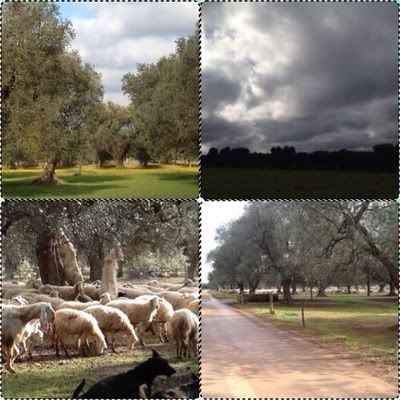 I loved the two clever sheep that knew how to get up on their hind legs in order to reach the taller olive branches!
Breakfast –  Coffee + 2 rice cakes with tahini and jam + 2 mandarines
Lunch –  1 portion homemade lasagna + artichoke salad + 1 piece pandoro + 3 mandarines
Tea time – 2 cups of tea no milk or sugar + 15 sugar covered almonds
Dinner –  Greek yogurt + walnuts + 2 mandarines
Exercise – 11km walk – took me about 90 minutes
Weight – * + 0.5 kg *
Shauna
For the past eight years every Christmas Eve my sister and I have declared, "This year, we'll get up and go for a morning walk before the eating begins", but I don't think we ever actually did it. UNTIL TODAY!
We ended up with three little walks. A bright, clear morning turned into a beautiful blue-skied day then a bloody chilly evening so it was nice pootling around the village between meals. My favourite was the walk between lunch and pudding, where we saw families slumped at at their dining tables in varying stages of fullness.
Just finished a hilarious Skype with my Mum and Granny now kicking back listening to the grumble of my belly, feeling very chuffed with how the day went, both HAM Plan wise and triumphant Christmas Lunch  wise!
MERRY CHRISTMAS DUDES!
Breakfast – Coffee. Bagel with smoked salmon and cream cheese. Two Bellinis.
Lunch – Roast turkey, ham and all the trimmings. Glass of red wine.
Pudding – Surprisingly sensible portion of each 1) Chocolate self-saucing pudding (old school!) 2) Ruby fruit jelly trifle
Dinner – Handful of crisps with French onion dip. A chocolate biscuit. Many cups of tea!
Exercise – 3 x 25 min walks – one before brekkie, one between lunch and pudding, and one late evening one in an attempt to ease digestive discomfort!