Julia
Shauna sent me a quick note yesterday, "How do you cook thistles?".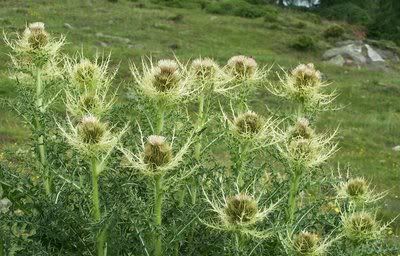 You boil them first, and then they can be baked. They're really good mixed with bread crumbs and olive oil to give them a crunchy texture. The edible part is the stem which tastes  similar to an artichoke. The BBC even has online recipes for them!
We came back really late for dinner last night and didn't get to bed until 2.00 am. Then we slept in until 10.00 and between various chores around the house we ended up not eating any breakfast. I was strangely okay with this. I usually have to eat in the morning but I thought it was better to wait until lunch and sit down for a proper HAM meal.
Breakfast – niente (nothing)
Lunch – Pasta with shellfish, 1 piece black bread, thistles, 4 mandarines + 1 coffee + bite of some sweet thing my husband put in front of me…
Dinner –  artichoke risotto + cheese + 1 orange + a few pomegranate seeds
Exercise – doctors orders to stay put today!
Weight – * + 0.2 kg *
Shauna
Dang I am so jealous of Julia's artichoke risotto. Love me some artichokes…
It's not like we live in squalor or anything (especially given Gareth is a neat freak who cannot go to sleep until the remote controls are neatly arranged facing north on the coffee table), but it took freaking ages to clean the house today in readiness for Christmas visitors. I swear it was two hours on the bathroom alone. Scrub scrub a bloody dub dub.
But then we went to see some friends for their Minced Pies and Mulled Cider Soiree. Ooh the cider so good – full of cinnamon, cloves and orange. Really nice afternoon. Then it was time to pick up my sister from the train station, woohoo!
I'd planned to have some wholesome soup made in advance for dinner, but the cleaning took us so long I didn't get time. So we moved the Christmas Eve Coffee Table Picnic tonight. This basically involves everyone contributing their favourite nibbly things and sitting around yammering. There's usually wine but we were all a bit cold and knackered so it was lots of tea instead. Then two episodes of Borgen Season 1, as I'm determined to get my sister all caught up before Season 2 starts on BBC Four in January. She loves it already, I can tell.
Breakfast – Coffee. Then leftover chicken curry after first round of cleaning.
Lunch – 3 small glasses of mulled cider, 1 mince pie, 5 chestnuts (hot and fresh peeled. so good!)
Dinner – Coffee table picnic! Quite a lot of cheese, a few slices of cured meats (parma ham, chorizo etc) half a dozen crackers, grapes, rhubarb chutney, a few almonds and cornichons. Fresh coconut. About four cups of tea (such a cuppa tea kind of day)
Exercise – None unless you count about five hours of vigorous scrubbing, sweeping and swearing?