We have SO many things to talk about here in the Up & Running world, but before I move on I have to tell you about the last weekend in October, in Venice, Italy.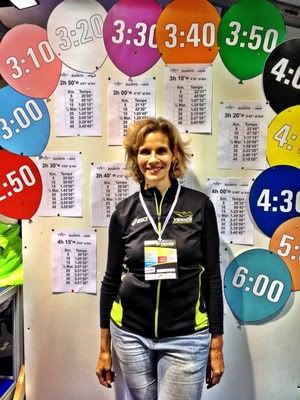 I've been working for Venicemarathon since 1997. One of my first ideas was to bring in pacers, a novelty in the running world and a first for Italy. Now every single race in the book has them and I feel proud to have been the first to experiment with them for a big marathon.

One of my jobs at the expo is to present the marathon course. Four times a day: yikes!
And then I direct a programme called My First Marathon. Each year I accept up to 100 newbie runners and train them for the four months leading to race day. The very best thing about the programme is that I meet a group of really incredible people. It's  such a thrill to train them via internet and then actually meet them.
This year my husband also had three elite athletes running so it was a true family affair. In the days before the  race it was overcast and grey with some rain, but nothing a windbreaker couldn't take care of. When we woke up on Sunday morning the trees were bending and touching the ground from the wind force. It was also raining and cold. I knew it was going to be a tough, tough day for everybody.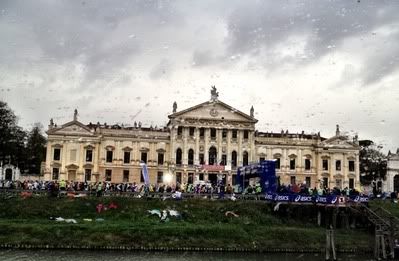 It rained, it poured, it showered. There were gale force winds right in the runners faces for the entire 26 miles. My husband's two female athletes pulled out at 21k with hypothermia. Domenico Ricatti, his other athlete, managed to stay with the head group of Kenyans.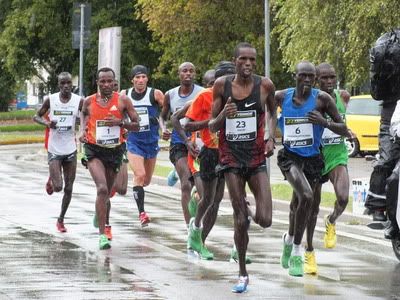 And he almost placed… coming in fourth by two seconds.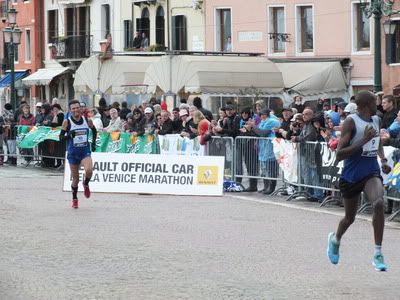 Mimmo was happy with his fourth place. So happy that when he saw Piero he jumped into his arms.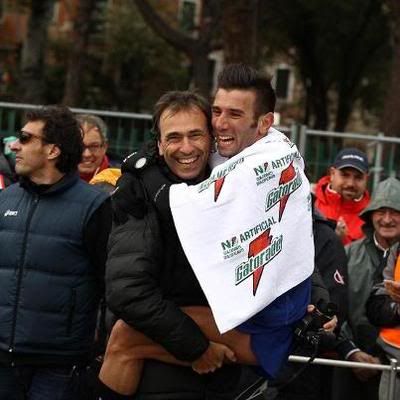 See you next year, Venicemarathon!