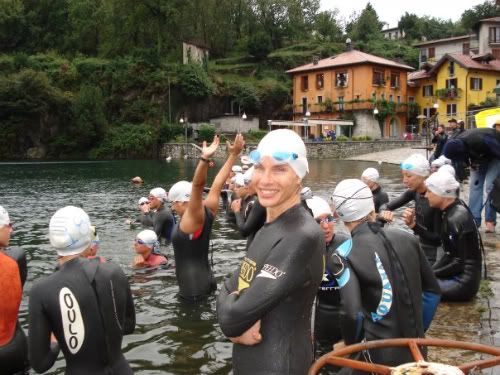 When we last left our heroine she was diligently preparing for a Half Ironman Triathlon in the town of Pescara. She knew she only had 8 weeks to train for it, which if you're going to complete a 1.9 km swim, 90 km bike, and a 21km run all in one shot, fifty-six days is not a lot of time. She was determined to make the best of it. Work and family had prevented her from training most of the winter. She decided that she wouldn't think about the race and just take one workout at a time. Her goal would be to complete the course in the cut off time of 8 hours (always that 8 in the mix!).
This would be good enough for her. Actually, it would be great. So she got on her bike and went on long bike rides. She dove in the pool even though she hates chlorine. She perfected her eating habits and lost a few pounds. Her enthusiasm for her endeaver would die down periodically and she'd have to boost it up every few days, but it was working. She arbitrarily decided that this was the last time she would ever train for this distance again (for the rest of her life is what she said).
But then something happened that changed all the cards on the table.
They published the bib numbers for the race.
She was officially number 110.
All of the sudden she was no longer slogging miles out on the bike but imagining herself at the start line with her bib number on. Then she went a little crazy: she checked out who else was in her age category. She went off the deep end when she started looking up the competition's racing experience and Personal Bests. She knew things were over for her when she started to get those familar butterflies in her stomach. Nothing like signing up for a race to put a little fire under your rear!
People always want to know what the secret is to keeping up your motivation. My number one motivation has to be having a definate date and event when everything needs to come together. Yeah, yeah, health, weight control, blah, blah… but just as I need a deadline for my work, I need a race date for my workouts. This is why I've never been able to go workout in a gym. You get new muscles and conditioning, but then what happens? Sometimes when I'm sitting in my lovely home and ready to do nothing for an hour or so, just knowing that I have a race waiting for me helps me lace up my shoes and get out the door.
After freaking out about race number 110 and being nervous for 24 hours I had to bring myself back to reality. I'd only had 8 weeks to prepare for this Half Ironman. I did an awesome job of it while I juggled work and family. My goal is still to finish in the eight hour time limit. But if it's not my day I am going to celebrate just being there. Besides, I've already marked my calendar for my next big race…