Two weeks ago Europe began the 2011 athletic track season in Rome with the Golden Gala meeting. I've been going to this annual event since 1998. I just love watching REAL LIVE ATHLETES do their thing. There's always a point halfway through the evening when they have running and jumping and throwing all going on at the same time and I don't know where to look!
While other IAAF events in Europe totally fill up the stadiums, Rome has always been rather tepid only filling half the stadium with about 25,00 spectators.
But this year was different. This year SuperMegaStar Usain Bolt was going to be running the 100 meter mens race.
My husband works for the Italian Athletic Federation so we had to be there early since he had to get on the field and start filming the athletes as they warmed up.  My son Evan and I decided to pick some nice seats and soak in the atmosphere…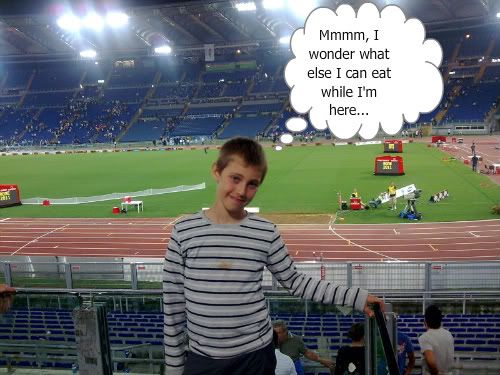 Please notice the orange splotch down the front of his shirt. Ketchup. He's 7 years old and fitting into 12 year old children's clothing. He's hungry ALL the time. While sitting and watching the athletes do their thing he ate 1 huge pork sandwich, 1 hot dog (see ketchup…), two ice creams (separate moments), 1 liter of water and 1 soda. I stopped him at the popcorn. He ate a pizza later. No, he's not overweight and yes, he has his father's metabolism.
About halfway through the evening I heard the crowd on the northern curve screaming. There weren't any events happening at that particular moment. Then the lady in front of me starting flailing her arms around and screaming at the golf cart going around the stadium. It was Usain himself. He stood on that cart like some sort of politician or rock star. The stadium was filled to capacity this year, some people just coming to see Bolt run for 10 seconds.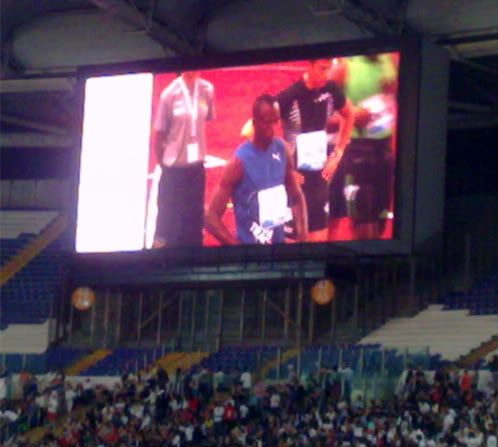 Ev and I were on the other side of the stadium from where the race was taking place so we had to watch part of it on the megatron screen, still trying to look past the lady in front of us that was screaming for her seat "VAAAAIIIII USAIN!!!!"
Luckily my husband got some nice footage of the race from where he was, practically in front of the athletes. Click play and enjoy!