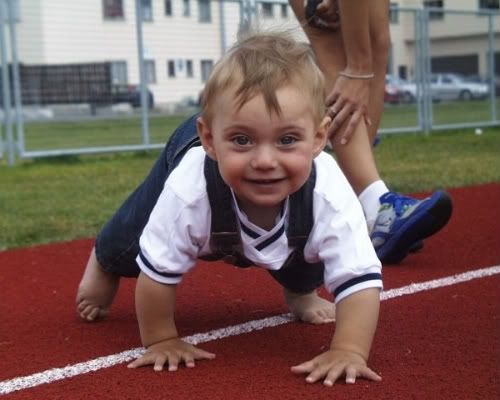 A lot of women I know (yes, you!) use their children as an excuse for not doing physical activity. They have nobody to watch them, they tell me that they  don't want to "waste" time on themselves and would rather do something with their children. I've always tried to incorporate my children into my physical activities.
Before I had my two kids I used to wonder how I was ever going to be able to keep running, swimming, biking once I had them. I live in Italy so I don't have any relatives that I can rely on and my husband's mother lives 700 miles away. On top of that my husband works four days per week out of town and on those days I am completely on my own. If anybody has an excuse for not staying active, it's me! I really had to really find a way for it to work without much outside support. I needed to pull in all my creative energy and think of new ways to workout while I still pursued my running or triathlon goals.
When they were newborns I would either go for a walk with them in a baby sling or wait until they were napping to do some "running". I called it running but it was more "moving as much as I could in different ways". I would set up running circuits through my house and out the back yard and then back by the baby crib to see if the baby was still sleeping. That would happen about every minute!  Sometimes I would splurge on a babysitter or exchange time with another mother. My longer runs were all done when my husband was able to take over and stay with the kids.
Once they were older able to sit up  it was a lot easier because I had my baby jogger. This was no problem for my daughter, she just LOVED that stroller. I trained for a marathon with her in it since she didn't mind going for  two hour runs in it. My son, ten years later, was a whole different story. I could time my runs with him because once we hit 30 minutes he wanted OUT of that thing! No marathons for me that year…
As the years went on and they got older I came up with different ways to incorporate them into my running workouts: bringing them to the park and running around the jungle gym, playing ball with them on a field and running like crazy when I had to fetch it; setting up exercise circuits that they pretended  with me.
This last fall I had a huge breakthrough with my running when my son, now 7 years old, finally learned to ride a bike. When spring came and the weather was warmer he  started  following me on some of my runs. Now after just a few months I am actually following him. We're up to 10km bike/runs and I have to say that it's really precious time that we spend together. He chats about all sorts of topics and if he's not going too fast,  I try and respond.