One of the things that I love about having a camera on my cell phone is that I can remember all I've done through photographs. I tend to leave them on the phone for quite a long time so that I can flip through them and recreate the moment in my mind.
This last weekend has filled a little of my iPhone memory with so many awesome images. A mix of work, friends, fun and inspiration.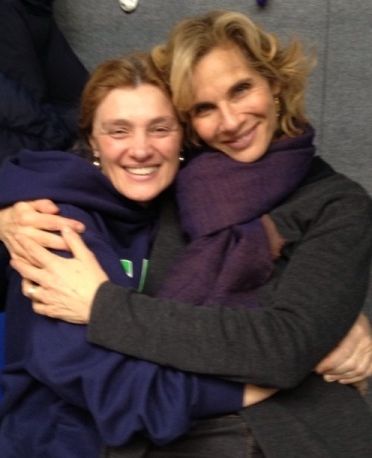 Friday morning I took a train (actually three trains) to get to Treviso and work at the Treviso Marathon. I coordinate the pacing groups there and this year was a little of a challenge since they had three different starting points that would come together at the 23km mark. I had my friend Serena come and help me since I couldn't split myself into three pieces.
I've known Serena since 1992. We met on the Florence Marathon course where I was giving out candies and she was running her first marathon. She's a super runner, having completed more than 100 marathons and a physical therapist by occupation. When I started  my very first running clinics in Italy she was the first instructor. She is a bundle of energy and I just love her!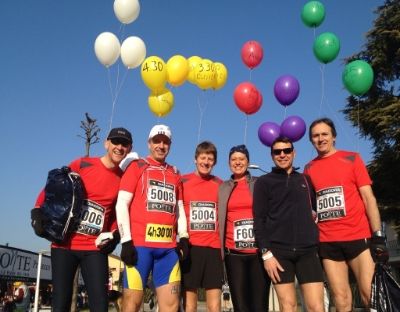 The three start points meant that the runners were divided into just 1500 per start. It also meant less chaos and a little more peace while getting everybody ready. They gave my pacers a place to change and then about 30 minutes to start we headed out…
Ponte di Piave was also the sole start for the handicap race. I walked by Alex Zanardi as he was getting his bike ready. He is truly one of the fittest athletes I know, no wonder he's a gold medal Paralympian.
It's incredible to watch his preparation process. He does everything by himself, no help from others. He can hoist himself everywhere with total upper body control and he works on his own bike to tweak it before getting in. He won the race in 1:06:29.
I have to admit I was a little envious of everybody at the start, it really gave me the racing itch!
After I saw everybody off at the start I had to go to… Rome!
Last November I'd signed up for the Roma Ostia Half Marathon and two Up & Runners in our Half Marathon Course decided to come too. Then in  January the Italian Government went into emergency mode and decided to hold elections on the same date as the race. They bumped the date up one week which left me out of the race due to my work engagement.
Paula P from Dubai and Paula G from the UK decided to go anyway. I arranged for others to take over for me after the Treviso Marathon start and then head off to catch the next train down south. I hitched a ride with the official race timers, the ones that take care of your chip time. But this meant that first I had to go with them to the 10km point…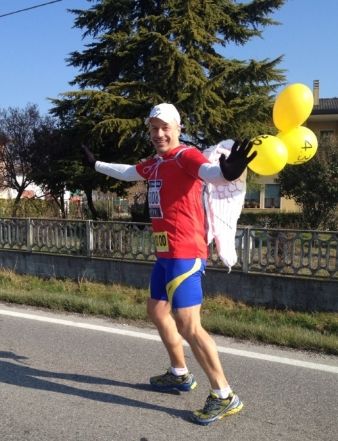 At 5km I saw my 4:30:00 pacer, Domenico. He and his pacers run with wings since they consider themselves Angels for the marathoners.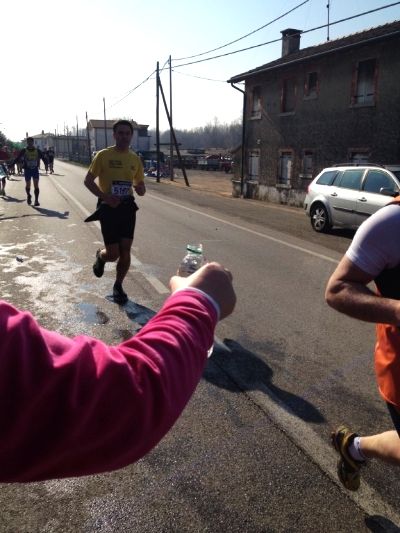 We waited at the 10k mark until the last runner came in. It was a gorgeous day for running; a chill in the air with no wind and blue skies!
I made it to the train station at 1PM and caught a fast train that got me to Rome in 4 hours. "The Paulas", as they are now collectively known as in Italy, had a fabulous half marathon race. We're trying to get an interview set up with them so stayed tuned!
We gabbed for a few hours and then headed to dinner. We met two of my other friends who had taken The Paulas around Rome the day before and helped them at the start. Our meeting point for dinner? La Fontana di Trevi.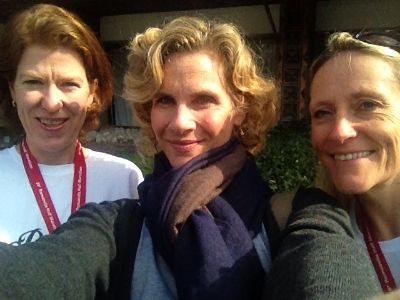 I spent the night at the hotel with them and then had a room service breakfast where we gabbed a few more hours about running, running and more running. I love talking to women who are on your same wavelength!
I was heading to the train station to go home but called my husband first. He'd been away for business for the last two weeks and it turned out he'd a change of appointments and would be in Rome that night. I quickly called the babysitter and made sure she could stay one more night and then headed to his hotel. May I just say that this was the perfect ending to a perfect weekend!