A few weeks ago a group of my local ladies asked me to prepare them for a half marathon. They all run regularly but the leap from 10km to half marathon in a short time span is a big one. It's not always easy to do but it's possible with a little guidance.
So, I wrote out a program and I inserted another 13 mile run a few weeks before their main event. Three of them wrote me back and said, "I don't think I can do that…" Another said, "That's not a race that someone like myself could run…"
You're probably wondering what sort of torture I'd cooked up! It was simply one of the most scenic runs that we have on our local racing calendar, but the profile looks like this: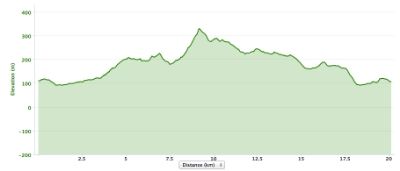 I assured them all that they were absolutely capable of completing the distance. I also told them that I'd come along and show them how to get to the end without any damage.
There are some events that are meant to be raced. There are others that are need to just be "experienced". We all stayed together, from start to finish. We walked the hills. If someone lagged behind we waited for them. We laughed, told stories and talked about what was going on in our lives. It was the best two and a half hours I've spent in a long, long time.
I love to prepare myself for racing, but what I love even more is to to be fit enough to enjoy a 21km journey with my friends.