I knew the time had come for a new pair of shoes. Many moons had passed since my last new pair and loads of mileage too. I already had a good idea of the kind of shoe I wanted; even the brand. I'd never tried this particular company but their marketing pitch of a shoe that was fun, modern and sexy was working on me. I invited my husband along because, really, what is more fun than going shopping for a new pair of running shoes?
We went to a store specialized in running shoes. There's a much better selection of shoes designed specifically for running rather than an array of fitness, tennis and hip hop fashion statements. The salesman/owner was also a runner so I felt confident that he would be suggesting the right shoe for me. I told him I was looking for basic training shoes that I could also use in shorter triathlon races.
He brought out seven different models, starting with few a lock in your foot and don't let it move anti pronation super padded models. To those I said no, no and no. I don't want to run in Vibrams but I do believe that your feet need to be able to move and work for you while you run. That won't be happening with a super stiff sole and wedge-like heels.
After trying on everything he suggested I spied the shoes I was looking for out of the corner of my eye. They were neutral and light and the minute I put them on I knew they were the ones.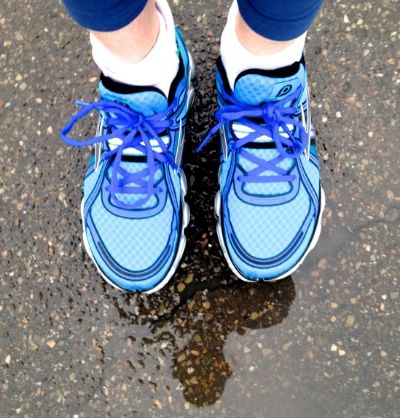 I'm not sponsored and I paid cash for these (with a 20% store discount) so I think it's fine to say that the shoes I walked out the door with were a pair of Brooks Pure Flow. I've run with them twice now and really love their lightness. They fit like a glove too! My only problem is that my huge foot can only take a men's size, so they are blue instead of pink. I think I can live with that!