Julia
Today started out sucky as my husband woke me up at 6.00 am to tell me that our kitty had passed away during the night. He had a fatal virus, it was totally expected… but I just didn't think it would happen so fast.
We put him temporarily outside while our son was up and about. I would tell him later when he got home from school, I didn't think he needed to know right away and spend the rest of his day crying. I walked him to school and then stopped by the vet to get a death certificate. We live in a city,  so there's a precise process you have to go through. By the time I had finished everything, including delivering the cat to the animal morgue, it was noon. I got home and looked in the cupboard at what I could throw together fast. Lentils.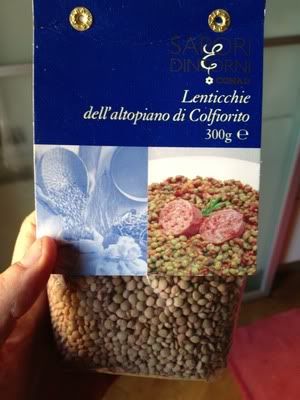 Colfiorito in an area in the Abruzzo region in Italy. The package says that they're grown in "pure air" etc etc. I like cooking lentils because they are a quick fix; you don't have to soak them overnight. It took me exactly 10 minutes of "work". I took a large pot and put veggies I found (waning) from the fridge. This included 1 onion, 1 carrot, some tomatoes, 2 zucchini and a bunch of kale. I put in some olive oil and a bit of salt and then  filled the pot  halfway up with hot water and put it on the stove to boil. I left it there simmering for an hour and this is what I got…
It was really delicious! No exercise due to cat mourning, but I'll be back running tomorrow….
Breakfast – 3 rice cakes with almond butter and honey + Caffe Latte
Lunch – 1 bowl of lentil soup + 4 mandarins + 1 large cookie (brought by lunch guest) + coffee
Dinner – 1 chicken thigh + 1 portion of oven veggies + 2 mandarins + 1/4 pomegranate
Weight –  * +0,4kg *
Shauna
I work a longer office day on Thursdays and this is often when my week runs out of puff. There's nothing left in the fridge, I've no brekkie prepared, I'm knackered, then easily persuaded to do nowt when I come home.
But today was much better with the HAM Plan in place. It's not hard to make Thursdays easier – prep brekkie in advance, get the soup out of the freezer, sneak in a walk at lunchtime and plan something brainless for dinner. Why why why don't I do this more often, eh!?
Larb Gai is one of my favourite speedy weeknight dinners. Up & Runner Kate got me onto it! It's full of awesome Thai flavours: chilli, ginger, lime juice, mint, basil, coriander. The original recipe uses chicken or pork mince but I tend to use lean turkey mince. Gareth likes it with basmati rice and I like it on a mega pile of salad leaves with cucumber and cherry tomatoes.
Breakfast – Extra strong latte for an early start. Homemade "instant" porridge with banana.
Lunch – Random soup from the freezer (butternut squash, carrot, leek, barley? Must label soups in future!). Braeburn apple.
Dinner – Larb Gai
Exercise – 30 mins walk (just escaped the horrible cold evil rain)
Update: I forgot that I had a mid-morning
Lindor ball!
We got a huge box of them from a supplier and I managed to hold off until there were only a few left (otherwise I'd have been thinking of them constantly) then enjoy one. Mmm, melty centre goodness.