Julia
Merry Fake Christmas!
Every year we go down to my husband's family down south for the holidays. I love going there and by now it's a tradition, but his family sort of takes over and I feel lost in it all. So,  many years ago we started to have our own little celebration before getting together with the in-laws. My daughter dubbed it "Fake Christmas". We exchange our gifts and have an evening in each other's company. I love it. I love my family.
Since Olly is a vegan I decided to make spelt focaccia and put out different toppings such as grilled eggplant and avocado (for Olly) and prosciutto, mozzarella and cheese for the others. I have a grain grinder…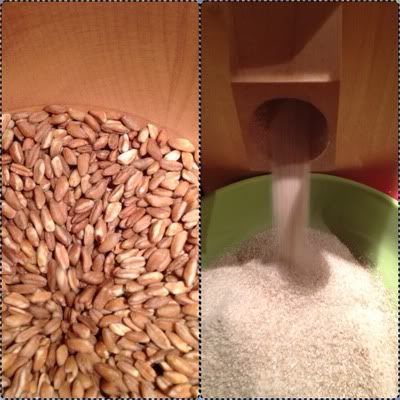 It felt heavier to knead and I had this feeling it was going to turn out awful. When I cooked it there wasn't that usual lightness and bubble to it. But the flavor was out-of-this-world. Rich and full. One piece topped with grilled eggplant and buffalo mozzarella was enough. There was wine too… but it was a very special occasion!
Breakfast –  200 gr greek yogurt + 10 walnuts + honey + coffee
Lunch –  chicken with peas and couscous + 3 mandarines
Dinner –  30 hazelnuts + 1 piece of spelt focaccia with eggplant and mozzarella + 1 vegan cookie (made by Olly) + 1 piece of nougat (very small)
Exercise – 40 min spin bike + 15 min weights and lunges, again before breakfast
Weight – * + 0.6 kg *
Shauna
Good lordy I'm feeling very merry. Tonight was ace – drinks at The Dome and dinner at Jamie's Italian with one of the agencies we work with at my Day Job. It's the only remotely glamorous moment of the working year so it's fun to get a bit dressed up and chit chat with lovely people.
I don't drink often – I always say I have enough trouble with solids – so it doesn't take much booze to make me sway a little. The Bellinis were so, so lovely and by the bottom of the second my legs had that dreamy, slightly leaden feel like they didn't belong to my body. But luckily it was time for dinner then and I drank lots of water with the delicious food and felt less wobbly. Just pleasantly merry and happy to be there.
About that breakfast and lunch. I know woman cannot exist on toast alone but I was running around like a mad chook and my menu planning has got out of whack. I thought I'd have enough food to last 'til the Christmas shop arrives on Sunday but the cupboard is bare. Back to the Porridge 'n' Soup formula tomorrow!
Breakfast – 2pc toast with strawberry jam. Coffee.
Lunch – 1pc toast with banana and almond butter. Tea.
Drinks – 2 Bellinis. ¼ glass Prosecco.
Dinner – Antipasti. Roast chicken with curly kale, Tuscan beans and polenta chips. ½ glass red wine. Plum and almond tart. Cappuccino. (you can have a squizz at the Jamie's menu here if you want all the adjectives)
Exercise – 30 mins walk.