Julia
Tonight was Christmas evening at our son's school. There'd be a class play and then carols sung by the children. The girl's parents were asked to bring something sweet and the boy's something salty. I wanted to bring something that everybody would eat but I also had to work all day so didn't have the time to bake. "Cheese" popped into my head and since there's a grocery store right in front of the school I decided that would be my choice.
Evan wasn't in agreement. He wanted to me to buy potato chips or focaccia. I told him that's what everybody always brings and that if we brought something new they might like it. He assured me that it was a "gross" choice for kids and that nobody would eat it.
I cut three huge hunks of parmesan and Swiss into bite size pieces and stuck toothpicks in them. I put it down on the table next to the mini pizzas and chips. It was all gone within 2 minutes. Evan apologised and said I'd been right. I guess he doesn't take after his father after all… he he.
Nothing appealed to me (I know, shocking!) so I decided to not partake and eat when I got home. I mingled with a glass of sparkling water.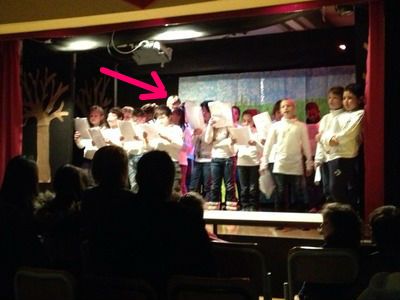 Breakfast –  1 banana + 1 coffee + 3 ginger cookies
Lunch –  artichoke risotto + salad, no dressing + pomegranate
Dinner –  big green salad +  small piece of cheese + apple
Exercise – 5km walk
Weight – * + 0.4 kg *
Shauna
Wherefore art thou weekend? I am so ready for you.
Breakfast – Porridge with cinnamon, pear and 1 tbsp almond butter.
Lunch 

2 satsumas
One small and so very worth it very dark chocolate truffle that got sent to the office from France. Fancy. Honestly you should see the freaking AVALANCHE of food gifts. I turned down three different cakes and sweets today.

Dinner

Roast chicken breast
Steamed new potatoes
Lots of green cabbage, broad beans and courgette
30g dark chocolate with mint. Mmm, refreshing!

Exercise – 35 mins Cathe Cardio Core Circuit DVD which was way too advanced for me and sucked beyond belief!
I hope the extra bullet points made my post look more substantial and disguised my Thursday night brain-numbness. Tomorrow is a new day!