One of my favorite winter treats is baked apples. Not the kind that have sugar, maple syrup or butter crumbles to support them. Just plain and simple apples… plus a prune!
These are so easy to make and they are a fabulous post-run snack for any runner, no matter what nutrition regime you happen to follow.
Julia's Baked Apples
Serves 6-8
Prep time: 5 minutes
Cooking time: 60 minutes
a deep dish oven pan
6 – 8 large apples (Fuji apples work the best)
6 – 16 prunes
cinnamon
water
Wash the apples. Create a small well in the centre of each apple by cutting out the stem and core and leaving the bottom intact.
Place the apples upright into a deep dish pan and fill the pan with approximately 1 inch/2.5 cm of water. This prevents the apples from sticking to the pan PLUS if the apples are the right quality they make their own syrup… slurp.
Place 1 or 2 prunes into each apple hole.
Sprinkle with as much cinnamon as you care to. I love to use organic cinnamon since it seems to be a little more peppy than regular store bought brands.
Place in the oven at  350°F/180°C and bake for 1 hour.
Here's what you get…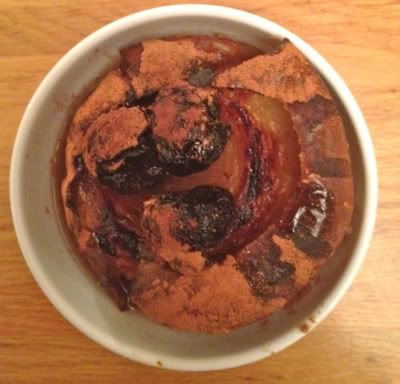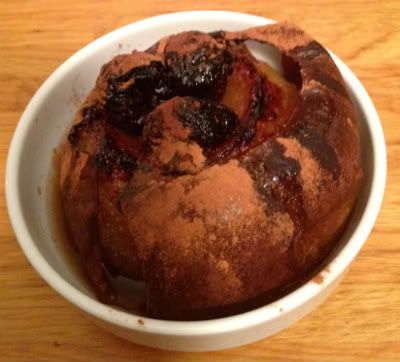 Bonus tip: If your family gobbles these up in one day (or sitting) you can reuse the pan liquid left over from the previous batch to make more apples… that syrup just gets thicker and thicker with each baking.